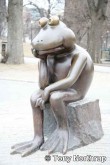 Have you been thinking about being green?

Do you ever wonder how energy use in your office relates to climate change?
Have you ever thought about planning a green event for your office?
Has your office started a cool eco-initiative?
Would you like help increase the recycling rate on campus?
---
IF SO, BECOME AN ECO-AMBASSADOR! There are currently two options:
Our traditional program varies based on which campus you are on and is dependent on the schedules of those who sign up. Recruitment for next year, FY 2012-2013 Eco-Ambassadors is open! Go to our registration page or download the brochure to get more information.
A condensed program comprising of two half-day sessions (lunch provided) is offered on the Boston campus twice a year, in August and in January. This January we will also be holding a condensed session in Medford.  Register now for the next sessions. Download the flyer for more details.
What is the Eco-Ambassador Program?
The Office of Sustainability recognizes that staff and faculty play an important role in campus culture. They are often the stalwarts of their offices and thus are in the perfect position to learn about and practice environmentally friendly behaviors. We started the Eco-Ambassador program to help staff members make their workplaces more sustainable and to serve as sustainability resources within their offices or departments. Eco-Ambassadors learn about the many different ways to 'green' their office and form a cohort of peers who then support each other and share tips and advice. Check out our Eco-Ambassador Frequently Asked Questions.
Why an Eco-Ambassador Program?
To reduce the environmental footprint of Tufts' administrative operations
To enable staff to play a direct role and have a personal stake in greening efforts
To build a sense of community by networking like-minded staff around a shared commitment to sustainability
To enable us to use energy and other resources more efficiently, and save money
To generate new ideas, test conservation strategies, and incubate best practices for sustainability
To help Tufts meet its greenhouse gas emissions reduction goals
What do Eco-Ambassadors do?
Eco-Ambassadors are volunteers who spend a few hours per month of paid work time leading departmental efforts to conserve energy and water, select green office products, improve recycling rates and educate their colleagues about environmentally sustainable practices. See examples of Eco-Ambassadors at work.
Every month, Eco-Ambassadors participate in one 2 hour meeting and learn about a particular environmental concern (water, transportation, waste, etc.), as well as suggestions for implementation in their work area. Additionally, the Eco-Ambassadors send feedback to the Program, enabling sustainability staff to gather key information about recycling problems, energy consumption, or employee attitudes toward sustainability issues.
Background
In the Fall of 2008, we launched a pilot program on the Medford campus that connected staff and students to the sustainability resources on campus. Eco-Ambassadors participated in 6 sessions during the Fall semester and learned about current and past initiatives on campus; energy generation and use on campus; recycling; communicating the 'green' message; and opportunities for greening on campus. See the full 2008 syllabus and final presentation to President Bacow. Read more in the Periscope: September 2008, page 1 and January 2009, page 4.
In response to feedback from the 2008 participants, in September 2009 we began a year's worth of programming for interested staff members.  One extended (noon to 2 PM) lunchtime meeting took place once a month, covering a wide range of interesting and practical eco-topics.  Meetings were open to all interested staff members but those that attended 8 sessions or more received official recognition as an Eco Ambassador and were eligible to apply for funds to green their office. See the full past session summaries.
The Present
If you are interested in becoming an Eco-Ambassador for your department, office or building, contact Tina Woolston. When you sign up you will be asked to share some preferences for the day and/or time that works best for you. We will use the responses to choose the typical monthly meeting times for the year or to select days for the half day or full day workshops.
Resources
 Looking for the Eco-Rep program? Click here.
---
Frequently Asked Questions
Q1. What if I can't make every session?
A1. All staff are welcome at all sessions, however, since sessions often build upon each other we encourage you to go to as many as possible. You must attend 16 hours in order to be eligible for sustainability grants. You can take sessions the following year to make up time. 
Q2. I work on the Boston/Grafton campus, can I become an Eco-Ambassador too?
A2. Yes, if there is sufficient interest, we will have sessions on each campus. 
Q3. Someone else from my office is already an Eco-Ambassador, can I be one too?
A3. Yes, if you are interested in learning new things, then you are welcome to join the program. In addition we find that it is easier to get things done when you have someone to work with so we encourage colleagues to join. 
Q4. I am a student, can I join?
A4. PhD students and post-grads are welcome to join as honorary staff members. A few undergraduates are accepted into the program but have slightly different responsibilities (helping out staff in other offices, etc.) Email Tina if you are an undergraduate interested in this program. Undergraduates should also check out the Eco-Rep program.
Q5. I want to make my office more sustainable but I can't go to the meetings – do you have any information I can use to learn on my own?
A5. All the materials and presentations from the 2009-2010 and 2010-2011 programs are available on our website – you will probably find them useful. You can also schedule an individual meeting with someone from the Office of Sustainability or Tufts Waste Reduction Manager (née recycling coordinator), Dawn Quirk. The Tufts Recycles! website also contains lots of resources for staff.
Q6. What is the time commitment?
A6. Eco-Ambassadors are expected to participate in 16 hours of training, either in the form of 8 monthly meetings (about 2 hours long), 4 half-day meetings or 2 full-day meetings. Past Eco-Ambassadors have reported that they spend an average of 30 minutes to one hour preparing for the each monthly meeting (doing assignments, reading background material etc). 
Other questions? Email us.