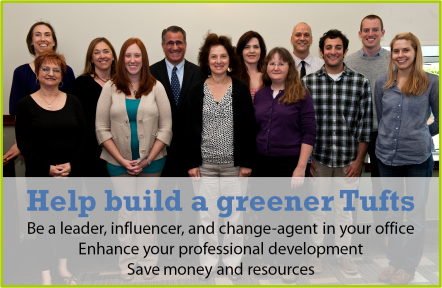 What is the Eco-Ambassador program?
Staff and faculty play an important role in campus culture.  They are often the stalwarts of their offices and thus are in the perfect position to practice and spread environmentally friendly behaviors. Through an education- and action-focused curriculum, the Eco-Ambassador (EA) program provides participants with the resources, skills, and knowledge necessary to effect change, serve as leaders, and promote sustainable behaviors both in their offices and in the larger Tufts community.  Using the tools, information, and competencies developed during sessions facilitated by the Tufts Office of Sustainability, Eco-Ambassadors lead departmental efforts to implement, and educate colleagues about, environmentally sustainable practices and receive ongoing resources and support from the Office of Sustainability.
The Office of Sustainability has facilitated two versions of the Eco-Ambassador Program, a full-year program comprised of one 2-hour meeting per month, and a condensed program of two 4-hour sessions.
Participants who complete the program are eligible to receive a $100 grant from the Office of Sustainability to implement a "green" project in their office.
For any questions about the program, please contact Shoshana Blank, Education & Outreach Program Administrator, at shoshana.blank@tufts.edu.
What will I learn?
Participants in the Eco-Ambassador program will learn:
Information about sustainability topics and concepts such as waste and recycling, water, energy, transportation, purchasing, and climate change both on a macro-level and specifically relating to Tufts
Communication and behavior change techniques
Benefits of becoming an Eco-Ambassador:
The Eco-Ambassador program provides participants with the resources, skills, and knowledge necessary to effect change and serve as leaders and change-agents both in their offices and in the larger Tufts Community.  By becoming an Eco-Ambassador, you will:
Enhance your leadership skills, and be an agent for change in your office
Add to your professional development, and expand your skill set and knowledge of sustainability concepts
Join a cross-campus network of peers working together to share ideas, problem-solve, and facilitate change
Be recognized for both your office's and your personal sustainability achievements
Play a key role in crafting and implementing office and university-wide sustainability goals and programs
Gain access to a host of sustainability tools and resources