Join this year's Eco-Reps in taking on the 2013 Zero-Waste Challenge from October 9 – 16! 

Where does our trash go once we throw it away?
How much trash do we generate?
And do we care?
These are the questions that the "Zero Waste Challenge" seeks to address. Why is it socially acceptable to put as much trash as you please in the can, but not in a bag you carry with you? People who take on this challenge are usually amazed at what they find.
Take part in the Challenge!
It's easy – the idea is to collect everything that you don't recycle or compost (or otherwise legitimately divert from the trash),  in a clear bag, and then carry the bag with you for a week. The bag should be prominently displayed or clipped to backpacks or bags. Try it, even for only part of the week. You will be surprised at how much you learn about waste and your own habits (and how it changes your decision-making when your trash is connected to you! Why is that?).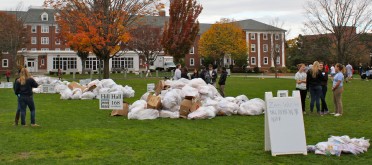 At the end of the week, on Wednesday, October 16th, at 12pm - bring your bag to the Academic Quad where the Eco-Reps will be making a pile of the Zero-Waste challenge bags alongside "Jumbo Mountains" -  piles of trash generated from 5 different residence halls in the past week– to demonstrate just how much of a difference being conscious of your consumption and waste can make.
The first 100 people to drop off their bags will get free cider donuts and cider, and one bag will be chosen at random to win a cool Terracycle backpack made of recycled material (so put your email address on the bag when you drop it off!)
Read about others' experiences with the challenge on our blog. Our interns will be reporting back on their experiences throughout the week!
How to participate
If you would like to try the Zero Waste Challenge yourself or organize a Zero Waste Week for a group or organization, follow these simple rules:
Take a gallon ziploc bag (or other large, clear bag) and affix the "Zero Waste Challenge" sticker to the outside. You can also:

Pick up stickers, bags, buttons and binder clips at tables in the Campus Center on October 7th and 8th between 11:30 and 1:30, or anytime from bins in Tisch Library or at the Office of Sustainability at Miller Hall (entrance on back parking lot, across from Hillel).
Ask your Eco-Rep for a challenge kit.
Make your own. Download and print your own sticker.
Any waste that you do not actually recycle or compost or otherwise legitimately divert from the trash can goes in the bag. One-time use water bottles go in the bag too – there's no excuse for them!
No biohazards in the bag.
The bag should be attached to the outside of your backpack or bag at all times.
Wear the "Zero Waste Challenge" pin, too – it will let people know what you're doing and is a great conversation starter!
If you or your group participates in this challenge, please share stories and pictures by posting on the Office of Sustainability Facebook page about your experiences! We will be giving away FREE recycled notepads for everyone who posts.
Questions?
RECYCLING: Unsure what item goes where and where to recycle – visit TuftsRecycles! for detailed information
COMPOSTING: Information on composting drop off sites can also be found on the TuftsRecycles! website
Empty chip bags and energy bar wrappers can be upcycled through the Terracycle program – there are collection points in the Tower Cafe, 80 George Street and the Office of Sustainability. Details here.
If you can't come to the Rez quad at noon, drop off your bag at the Office of Sustainability anytime in the morning on the 16th.