The majority of Multi-Function Printers (MFPs) on campus are Toshiba 350/450s.

These printers have a number of money, energy and paper-saving features:
Cheaper. Printing on a Tufts MFP costs a little less than 2¢ per page, whereas printing on your desktop printer costs upwards of 10¢ a page for black & white printing and 40¢ per page for color printing.
Save toner. By selecting certain print settings you can extend the life of your toner cartridge. Find out how (Word doc).
Scanning. Scanning and sharing documents on-line decreases the amount of paper you need to use. How to scan to file. Note you might need to purchase a 'scan dongle' (I swear, that's what it's called) to enable scanning on your MFP. Contact Purchasing if you think you need one. Toshiba 200 series do not have scanning capabilities.
Double-sided printing. Printing on both sides of the paper, saves, well, half the paper you would normally use. During May 2009 many MFPs and computer default settings are being converted to automatically default to double-sided printing. However, if yours has not been changed – you can change the settings yourself! Learn how.
Private Printing. Did you know that you can control when a document is printed? With private printing you can attach a password to the document so that it only prints when you release it at the printer. This helps protect the privacy of sensitive documents. Find out how.
Ability to handle at least 30% recycled content paper. If your MFP seems to have problems with recycled-content paper, contact your MFP technician, and if there cannot fix the problem, or claim that the paper is causing it, please contact the contract manager in the Purchasing Department.
More info and FAQs about printing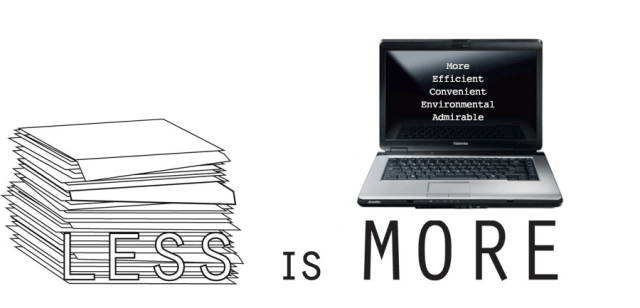 Wish you didn't have to print at all? Try electronic grading! Students from the Environmental Action: Shifting from Saying to Doing class in Spring 2010 put together this handy cheat sheet to help you do electronic grading via Blackboard. Read more about their efforts here. Read about their campaign.
---
Directions for Scanning to File:
At your Multi-Function Printer:
Make sure your MFP has the ability to scan documents (you might need a 'scan dongle' installed)
Have your MFP administrator set up folders for each person in your office who uses the scanning feature
Press the Template button
Touch Public Template Group
Select your folder by touching it
Touch Scan! on the lower right corner of the screen
Repeat for all pages
Touch Job Finish when you're done
Note, on our printer, the top feed tray doesn't work for scanning. Maybe it'll work on yours…
At your computer:
Find the folder that your administrator set up for you and open your file!
---
Directions for setting your print preferences to double-sided:
Did you know that you can change many of your printer's default settings so you don't need to change them each time you print a document?
At your Windows-based computer (adapted from this website):
Click the Start button, point to Settings, and select "Printers" from the menu that appears.
Right-click the printer that you would like to change settings for, and select "Printing Preferences" from the menu that appears.
A tabbed window will open, displaying many settings that you can change. Find the one related to two-sided printing and adjust it. Note: Each printer has a different setup of this window, so for exact modification information, refer to your printer manual. This is what it looks like on Windows XP:

Tip: On the Print Job tab, you can use the "Proof print" button to be sure that you printer is working correctly.
Tip: While you're here, you can adjust your printer to save toner!
Once you have finished changing settings, click the Apply button.
Click the OK button.
---
Directions for Private Printing:
At your computer:
Select your printer in the Print window.
Click on the Properties button
Select the Print Job tab
Select Private Print
Add a five-digit numerical password
Click OK until it sends your document to the printer
To see screen shots of the steps above click here.
At your Multi-Function Printer:
Press the Job Status button
Touch the Print tab on the left side of the screen
Touch Private on the right-side menu
Select your user name from the list by touching it
Enter your five-digit numerical password using the number pad on the machine
Touch Enter on the bottom right of the screen
Select the document you want to print from the list by touching it
Touch Release on the bottom on the screen
Your document should print
Don't forget to change the setting back to normal (on your computer) the next time you print, otherwise it will automatically do another private print.
---
More information about printing
Using Recycling Content Paper in Tufts Copy Machines
The Tufts purchasing department has a letter from Danka (the service company that provides Tufts Toshiba MFPs) that says that their machines work with 30% recycled content and all necessary repairs are included in the contract.
Danka has been requested to inform their service people about their machine performance regarding 30% recycled paper to help avoid further confusion and false information.
Additionally, the TOSHIBA REVIEW (our copy machine brand), 2008. VOL. 63, NO.1, stated that:
Rubber for High-Performance Transport Rollers of OCR Scanners
Optical character reader (OCR) scanners are required to scan documents with accurate image size (minimal expansion or contraction) in the transport direction in order to improve the performance of character recognition. Moreover, with the increasing usage of OCR scanners, they must also be able to handle a wide variety of paper types including thick, thin, recycled, impact, and thermal papers.
Toshiba Solutions Corporation has developed rubber for the transport rollers of OCR scanners to enable them to fulfill these requirements and maintain stable performance over the long term.
Overuse Issues
The Toshiba MFPs on campus are designed for relatively small printing and copying duties. Some departments, however have used them to make 1,500 – 2,000 copies, which will overheat the machine, leading, in many cases, to jamming. If you are printing more than 500 pages – please send your job to the copy center. In addition, you can stagger large loads so the machine has the opportunity to cool down in between.
Where do recycled paper misperceptions come from?
Despite huge advances in the quality of recycled paper since the late 1980s, there is still a tendency of print operators/repairpersons to blame the paper for printing issues. This problem persists because of the initial issues with recycled papers many years ago, which included paper that curled, had a high dust content or was thicker than "virgin" papers. In additions problems may result if poor quality paper is used, whether it is virgin paper, or recycled-content paper.
Paper jams: In 1998, the Recycling at Work Campaign of the National Office paper Recycling Project – Presented by the United State Conference of Mayors tested "over 2 million sheets on various types and models of copiers, laser printers, and ink-jet printers for physical properties and performance. Tests covered paper feeding, reliability, image quality, toner viability, smoothness, and curl, among other things. The 30% PC [Post-Consumer] studies showed equivalent performance to 20% – 25% PC and virgin papers." (US Conference of Mayors)
The Paper Task Force Report published by the Environmental Defense Fund in 1995 found that, "Large quantities of recycled-content papers are available that meet specifications and perform comparable to virgin papers" (p.83). Additionally "based on extensive interview with paper and equipment manufacturers, the Task Force found that frequency of copier machine jams is not correlated with the use of recycled-content paper" (p. 90)
Paper fiber: "Recycled fibers may yield paper with slightly more bulk (thickness)… than paper made with virgin fiber. Printers have also reported less of a tendency for cracking to occur in recycled paper.. than compared to virgin papers of equivalent weight." (Thompson, 94). This weight also leads to the "tendency of recycled papers to lay flat" (Thompson, 95). This can actually reduce the likelihood of the paper curling and jamming the machine.
Dust: The Aurora institute in Canada conducted a study on recycled papers in 2003 and found that "At one time with the 30% recycled paper, there used to be a lot of dust or fluff that comes off the paper and it used to do harm to the machines – clog them up and dirty them. The paper that's produced today is equal or better than the virgin paper." This is because recycled paper is often thicker than virgin paper (Following the Paper Trail study, 2003). From the recycled content paper listening study, various copier manufacturers stated that dusting is not a factor of fiber content.
Lint & 'picking:' Linting, describes the pulling of loosely bonded fibers from uncoated papers. Picking, refers to the pulling of coating or small pieces from the surface of any paper. These can "lead to hickeys, or to white specks showing in solid printed areas" (Thompson, 98). While these tendencies have been reported with recycled papers, they are actually "due to many factors, including the characteristics of fiber bonds, surface sizing, and the presence of foreign matter. These problems can in fact occur with recycled or virgin papers" (Thompson, 98). "Given the pattern of reporting, it seems reasonable to conclude that problems of paper strength and linting or picking are not inherent to recycled papers but are indicative of the quality standards to which the paper has been made" (Thompson, 102).
Resources:
Following the Paper Trail: Arora Institute 2004
National Office Paper Recycling Project. http://www.usmayors.org/recycle/buy_recycled/30paper.pdf
The Environmental Paper Listening Study: http://www.conservatree.org/paperlisteningstudy/RecyEquip/equipmfrs.htm
The Paper Task Force: Environmental Defense Fund: http://www.edf.org/documents/813_PTFcomplete.pdf
Thompson, Claudia G. Recycled Papers: The Essential Guide. MIT Press Cambridge, MA. 1992.
TOSHIBA REVIEW 2008. VOL.63 NO.1