Sign up for a CSA on campus!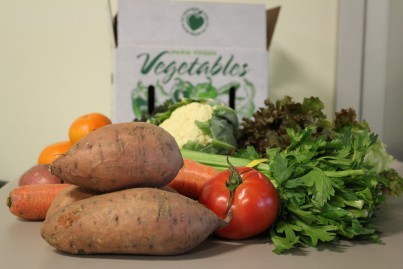 ____________________________________
Tufts Pick-up Locations:
Medford/Somerville Campus (Both World PEAS and Enterprise Farm)
WHEN: WorldPEAS pickup is from 3pm on Wednesday until 11am on Thursday. Enterprise Farm pickup is from 1pm-10pm on Wednesday.
WHERE: Office of Sustainability glass entranceway, ground level of Miller Hall (parking lot side, across from Hillel)
Shares will be placed in the glass entryway outside of the office.  However, keep in mind that the entryway is not air-conditioned, so we strongly recommend that you try to pick up your vegetables by 6 pm on the day of delivery to ensure optimal freshness.  We will also Tweet & update our Facebook status when the farm shares are here.
Also, be sure that you are taking the right share (which should be clearly marked with signs). Please do your part to keep the entryway clean by collapsing your boxes and put them in the appropriate containers.
In case there are delays or changes to delivery times, World PEAS has a Twitter account where they post updates (@NewEntry).
Chinatown/Boston Campus (World PEAS only)
Tuesdays from 3:30-6:30
Jaharis building
150 Harrison Ave
Shares will be kept in the atrium of the back exit near Kris Maguire's office and the Student Affairs Office on the first floor.  Those of you within the Tufts Community will be asked to show a Tufts I.D.  Those of you who are not part of the Tufts community will need to sign in at the front security desk.  World PEAS has provided security with a list of your names so that you will have access to the building. Members of the Tufts community who have access to the M&V building may be able to access Jaharis after hours.
Click HERE for detailed notes on World PEAS' pick-up locations (address, time of pick-up, etc.).
If you haven't already, like our Facebook page or follow our Twitter feed to receive alerts as soon as the vegetables have been delivered.
____________________________________
World PEAS

The World PEAS CSA is a program of the New Entry Sustainable Farming Project, sponsored by Tufts University's Freidman School and Community Teamwork Inc. They deliver to both the Medford and Boston campuses.
For the 2015 season, World PEAS will offer the following:
Registration for our 2015 CSA Share Program is now open!
World PEAS differentiates its services through its food access work.  Since 2008, World PEAS has conducted a low-income food justice program to ensure equitable access to fresh fruits and vegetables through its Share-a-Share Program.  Learn more about our Share-a-Share Program (and how you can help!).
World PEAS aggregates the bounty of the season, supplying food grown by over 25 immigrant, refugee, and beginning farmers in eastern MA, to provide families with a weekly box of seasonally available fruit, salad and cooking greens, tomatoes, eggplant, carrots, potatoes and other healthy foods. The World PEAS CSA is a unique, multi-producer model that makes it possible for beginning or small-scale farmers who cannot manage a CSA on their own to participate by growing a select number of crops for the CSA, while providing greater crop diversity and reducing production risk for CSA shareholders.
Call 978-654-6745 for more information.
New Entry provides multi-cultural, beginning farmers with business training, access to land and farm equipment, organic production training and materials, marketing assistance, and continued guidance to start and sustain their farm businesses.
____________________________________
Enterprise Farm
Enterprise Farm has been growing Certified Organic vegetables since 1983!  They also offer a regular Summer/Fall share which runs from June 8, 2015 – November 7, 2015 and a Fall share which runs from September 1, 2015 – November 7, 2015, which is open to everyone and not limited to Tufts-affiliated staff or students.
Season
Small Share
Medium Share
Large Share
Academic Share @
Tufts University Sept 1 – Nov 7, 2015
Summer and Fall June 8 – Nov 7, 2015
$423.50, $19.25/week
$545.25, $24.78/week
$723.50,
$32.88/week
Pro-rated Pricing
: 
Enterprise welcomes new members at any time with pro-rated pricing for shares that have already started. 
Those who sign up for the current season before Noon on Thursday can pick up their first share in the following week during the summer/fall season! 
Email 
farmshare@enterprisefarmcsa.com
 with questions and to get pricing.
Detailed sign-up instructions:
____________________________________
Plough and Stars
The produce for this CSA  comes exclusively for our community here in Medford Hillside and West Somerville. Plough and Stars operates a diversified farm 15 minutes away in Lincoln, sustainably producing a wide variety of fresh, nutrient-dense vegetables.
Rather than providing you with a box of pre-selected items from the farm, we offer a market-style CSA.  We pack as much variety into our crop plan as possible, planning weekly harvests of up to 20 types of vegetables at the height of the season.  Don't like rutabagas?  Each week, members will have the chance to choose a predetermined number of items (4-6 items in the early weeks, 8-12 items later in the summer and fall) saving the rutabagas for those who love them.
The 2015 season shares are now sold out. However, you can still sign up to be added  to the wait list.
For more information on the size and pricing of the 2015 CSA shares, visit the Plough and Stars website.
________________________________________________
About CSA programs

What is a CSA?
CSA stands for Community Supported Agriculture. This means that you buy a share in a farm at the beginning of a season (in our case, the beginning of a semester) and you get produce delivered to you here.  When you sign up for a farm share, you will receive an individually packed box of fresh produce, delivered directly to a predetermined location for pickup. Here at Tufts, most farm shares are dropped off at the Office of Sustainability in Miller Hall for the Medford Campus and at the Jaharis Building in the Boston Campus.
If you're looking for more than just vegetables, there are other types of CSAs such as:
Additionally, there are a variety of farms where you can pick up meats and produce on your own. For more information about CSAs in general, visit http://www.localharvest.org/csa/
Remember, buying local produce is one of the most significant ways to live sustainably. If you support local agriculture and sustainable farming, you are being green every day… at least three times a day!
Additional resources