Eco-Reps encourage diners to join them for a Meatless Meal in Dewick (Spring 2011)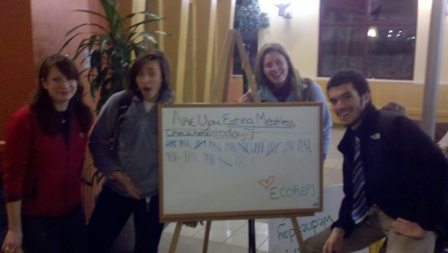 Eco-Reps (L to R): Dani, Claudia, Jess (Coordinator) and Thiago (Spring 2011).
2014-2015 Eco-Reps
| | |
| --- | --- |
| | |
| Aidan Scrimgeour | Bush Hall (Fall 2014) |
| | Aidan is a sophomore from Salem, MA who is in the dual degree program with New England Conservatory and still deciding on a major at Tufts. In his free time he enjoys running, biking, eating, and reading. He also enjoys playing and composing music, and he is part of the Tufts band "Shark Saddle." He is a vegetarian who enjoys spending time outdoors. Aidan is excited to be a part of the Eco-Rep team this year! |
| | |
| Angie Bell | Hill Hall (Fall 2014) |
| | Angie Bell is a junior at Tufts this year and planning to major in English and Environmental Studies. Angie is originally from Sioux Falls, SD, and enjoys painting, baking, playing the flute and being outdoors. Outside of her schoolwork, she is a writing coach in a Boston high school and has a job in the Tufts student services office. Angie is really excited about being an Eco Rep for Hill this year and can't wait to help make Tufts more eco-friendly! |
| | |
| Priscilla Sena | Hodgdon Hall (Fall 2014) |
| | Priscilla Sena is a sophomore from Northborough, MA who is excited that she can eat any meal of the day without ever leaving her dorm – (Hello, 'Sophomore 20!'). But in all seriousness, this Community Health/pre-med major is excited to take on the challenge of Eco-Repping the popular dining spot on campus. When she's not dutifully educating the public on the benefits of compost, you can find her competing with the Tufts Ballroom Dance Team, eating Oasis take-out with the Brasil Club, or alluring students with colorful chalk designs for MAPS, the best pre-health organization on campus. |
| | |
| Sarah French | Lewis Hall (Fall 2014) |
| | Sarah is a sophomore from Burlington, VT and is studying Biology and Environmental Studies. She is living in the Green House this year and is involved in the Tufts Sustainability Collective. Sarah has always been passionate about the environment, growing up in such close proximity to Lake Champlain and the many mountains of Vermont and New York have made her want to work to preserve them as much as possible. Sarah has been a vegetarian since the age of five; over the years the environmental aspects have played a larger and larger role. Sarah is an avid runner, loves playing with kids, doing yoga, cooking, and just generally being outside. She can't wait to spread environmental awareness and passion in Lewis Hall this year. |
| | |
| Sophie Dulberg | Miller Hall (Fall 2014) |
| | Sophie Dulberg is a sophomore from Lexington, MA. She is planning on majoring in biology, and her interests lie at the intersection of public health, environmentalism, and education. She loves to spend time outdoors, especially hiking. Her love of being outside has made her aware of the necessity to preserve and respect nature. Sophie is looking forward to learning about and teaching sustainable practices. |
| | |
| Nikhil Nandagopal | South Hall (Fall 2014) |
| | Nikhil is a sophomore who was born in Houston, TX and then moved to Bangalore, India after nine years.  Bangalore currently feels at least 10 degrees warmer on average than it was a decade ago, so experiencing drastic climate change first-hand has further instilled a sense of urgency in ensuring the well-being of our planet.  Major: Undecided both describes his (current) major choice and the sketch comedy group he is part of on campus, which he thoroughly enjoys alongside co-managing and playing Intramural Tennis, dancing Burlesque, running, as well as looking to expand his activities in other domains, including greater involvement with TMC.  He is immensely excited to help make our home at Tufts and the rest of the world a more sustainable, eco-friendly and altogether fun place to live in! |
| | |
| | |
| | |
2013-2014 Eco-Reps
Andrew Williams

Blakeley Hall

Andrew Williams is a second year MALD student at the Fletcher School, from Philadelphia, Pennsylvania. His fields of study are International Security Studies and Southwest Asia & Islamic Civilization. Andrew is an avid cyclist and distance runner, and an advocate for composting and recycling. A former resident of Blakeley Hall, he looks forward to working with current residents to make sustainable living a high priority.

Kevin Ngan

Bush Hall

 
 Kevin is a sophomore from Natick, MA majoring in biochemistry and biomedical sciences. If you're looking for him, chances are he's slaving away in Pearson making sure he doesn't blow up the building. If not, Kevin is usually found sitting in the sun procrastinating and being lazy. His environmental interests started in high school, when he helped clean up some of his town's forests and now he is trying to get more involved in sustainability here at Tufts.

 Angie Bell

 Carmichael Hall

Angie Bell is a sophomore at Tufts this year and planning to major in English and Environmental Studies. Angie is originally from Sioux Falls, SD, and enjoys painting, baking, playing the flute and being outdoors. Outside of her schoolwork, she is a writing coach in a Boston high school and has a job in the Tufts student services office. Angie is really excited about being an ecorep for Carm this year and can't wait to help make Tufts more eco-friendly!

Aparna Dasaraju

Carmichael Hall

Aparna Dasaraju is a sophomore and majoring in Peace and Justice Studies and Community Health. Hailing from good ol' Topeka, Kansas, she has been passionate about how human interactions with the environment affect the health of both humans and the rest of what makes up the entire world. She enjoys reading, making art, dancing and foraging for mulberries. Aparna is mesmerized by the incredible beauty and grandeur of the environment and is stoked to work here on campus to promote sustainable ways of living to preserve our surrounding world.

Charlotte Clark

Haskell Hall

Charlotte is a sophomore from Carlisle, MA majoring in Environmental Sciences. She has been interested in issues concerning the environment since reading "An Inconvenient Truth" in middle school and has been a vegetarian since the ripe age of 8. She loves being outdoors, playing board games, and making music. She lives in the Sustainability House on campus, is involved in Tufts Sustainability Collective, and looks forwards to continuing her interest in environmental issues through academic and non-academic outlets during her time at Tufts.

Savannah Christiansen

Hill Hall

I'm Savannah and I'm a sophomore majoring in English and Environmental Studies. In my free time I love writing and exploring the natural world around me.  I'm a passionate hiker, swimmer and vegetarian. I'm originally from the Bay Area in California where I first became inspired to preserve the environment. I grew up around an eco-conscious city and I hope that I can inspire others to make sustainable behavior changes.

Arshiya Goel

Hodgdon Hall

Arshiya Goel is a junior majoring in Biology at Tufts. Growing up in many diverse countries coupled with her natural curiosity for environmental issues has made her passionate about protecting the environment. Particularly interested in conservation biology, she believes in raising awareness to protect animals in the wild. At Tufts, Arshiya can be found performing with Tufts Tamasha or meeting with Synaptic Scholars when she is not convincing her friends about the importance of composting. She is looking forward to continue working with the Eco-reps team to make Tufts more environmentally friendly.

Rachael Grudt

Houston Hall

Rachael is a sophomore majoring in Chemical Engineering. Growing up in the suburbs of Seattle surrounded by mountains and forests, the environment has always been important to her and she is looking forward to sharing her passion for the environment with the Tufts community this year! When she isn't busy being an Eco-Rep or studying for her classes, Rachael can be found running or exploring the local area.

Michael Zalesne

Lewis Hall

Michael is a sophomore from Columbia, SC, majoring in Biopsychology. He first got involved with environmental issues as a member of the Student Advisory Board of Keep the Midlands Beautiful, an affiliate of Keep America Beautiful in South Carolina. He enjoys being outdoors, learning about brains, and rock climbing. He is involved in Tufts Sustainability Collective, iGEM (Tufts' Synthetic Biology team), as well as other clubs on campus. He hopes to keep Tufts moving forward in a sustainable way!

Jeramey James Forest Evans

Metcalf Hall

Jeramey is a sophomore from Danvers, Massachusetts majoring in History, with a focus in Marxism. After spending his youth hiking, camping, fishing and backpacking with his local Boy Scout Troop, Jeramey developed a passion for the outdoors, conservation, and environmentalism. His favorite animals are frogs (which are particularly touched by pollution and environmental damage), and Jeramey loves to read, sing, and air guitar. Jeramey is so excited to learn and work together with the Metcalf community in order to create a greener, happier Tufts!

Jamie Cordova

Miller Hall

Jamie is a sophomore planning to major in International Relations with a concentration in global health, nutrition, and the environment. She currently lives in Southern New Hampshire. Her passion for environmental stewardship stems from a childhood spent gardening with her mother and hiking/kayaking in the White Mountains. After studying the effects of climate change on oceanic ecosystems aboard a Shoals Marine Lab vessel, Jamie became a committed environmentalist. She loves swimming, running, and spending time with friends. She is very excited to promote environmental consciousness at Tufts with the Eco-Reps this year!

Mari Fromstein

Richardson Hall

Mari is a sophomore double majoring in Geology and Environmental Studies. Originally from Milwaukee, WI, she took a quick stop in Texas before settling down in the great state of Minnesota. Mari loves travel and wants to go everywhere from Bhutan to Antarctica. When not dreaming of far-off places or checking out rocks, Mari can usually be found playing piano in Granoff, going to concerts in Boston, playing quidditch on the Res Quad, or persuading her family to buy compost bins and rain barrels. Mari has been passionate about environmental issues since elementary school, and she is especially interested in composting and public transportation. She couldn't be more excited to join the Eco-Reps team this year!

Tiwalolu Murvi Babalola

South Hall

Murvi is a Sophomore hailing from beautiful West Africa (Nigeria, Liberia, Ghana and Sierra Leone to be precise!) and majoring in Chemical Engineering and Environmental Studies. He loves to sing and dance, and has been acting since he was 5. Murvi's love for the environment stemmed not only from watching Captain Planet and reading the Animorphs books, but also from an exposure to the devastating effects that someone's actions in one part of the world can have on an unsuspecting group of people far away, and an appreciation of just how insanely amazing nature is.

Jesse Starger

Hill Hall

Jesse is a sophomore from Beijing, China, majoring in Chemical Engineering and possibly Mathematics. This is Jesse's first semester as an Eco Rep and while he isn't feverishly recycling or composting, Jesse can be found playing tennis or basketball behind South Hall. His love for the environment stems from an early interest in gardening, something he still keeps alive today in a few well managed plants in his room. Jesse can't wait to start working as an Eco Rep to begin promoting better environmental practices here at Tufts.

Natalie Kobsa-Mark


Tilton Hall (Fall 2013)


Like a Fragaria chiloensis, Natalie is native to sunshiny California most frequently located on the Pacific coast, adventuring, flautisting, cat-petting, and curiously frolicking around the globe. Majoring in saving the world (aka Environmental Studies and Peace & Justice Studies), Natalie plans to do just that! She has participated in many faces of environmental causes from tranquilly constructing and maintaining local gardens to large-scale activism in the fight towards Climate Justice. A lover of all plants, animals, and of course Mama Nature, she is super stoked to work with fellow Eco-reps to spread this environmental love to all of Tufts!

Danielle Mulligan

Tilton Hall (Spring 2014)

Danielle Mulligan is a freshman this year from Chicago. Living in Tilton Hall, she is excited to help her floor and dorm incorporate more sustainable practices into their daily lives.  She is undecided in her major but is interested in Environmental Studies among many other things.  She was involved in her high school's environmental club and loves to spend time outdoors.  Last year while traveling during her gap year, Danielle gained a whole new appreciation for the environment and sustainable practices and hopes that her involvement as an Eco-Rep can help inspire other students as well.

Audrey Dunn

West Hall (Fall 2013)

 
Audrey Dunn is a junior hailing from Little Rock, AR, majoring in Anthropology and International Relations (global health, nutrition, and the environment concentration). She is a vegetarian and an avid reader, and she loves exploring the outdoors. She has been interested in people's impact on the environment for years and wants to do her small part to help maintain the beauty of our planet. She is excited for her first year as an Eco-Rep! (Fall Only)

Hayley Ernyey

West Hall (Spring 2014)

Hayley Ernyey is a junior majoring in International Relations who grew up in Egypt and other countries in the Middle Eastern region.  She loves playing Ultimate Frisbee and Soccer and on the weekends can be found outdoors canoeing, kayaking and hiking with the the Tufts Mountain Club. Her interest for nature and the environment stemmed from a 45 day canoe trip in Nunavit, Canada. Hayley cannot wait to work with Eco-Reps this year to develop and promote sustainable environmental programs at Tufts.

Danthanh Trinh

Wilson House/Carpenter House

Danthanh is a sophomore intrigued by conservation biology. She plans on double majoring in Environmental Science and Biology.  Native to beautiful ole Torrington CT, she has been mindful of the environment ever since a conservation program came into her first grade class and demonstrated the effects of litter on stuffed animals. In her free time, she relishes in making art and music, being outside, and learning about different issues. She brightly anticipates helping make sustainable living a fun as well as imperatively daily part of Tufts life.

Ellen Osborn

Wren Hall

Ellen Osborn is a sophomore from Belmont, Massachusetts majoring (probably!) in Economics and Environmental Studies. She loves swimming, food, eating, biking, Maine, and the great outdoors. She is a recent vegetarian and advocate for the environment, following the example of her twin sister. She swims for Tufts, and when she's not at the pool she's probably doing handstands somewhere. She is excited to work as an Eco-Rep this year in Wren and try to make a difference in our habits and attitudes towards the earth!

Katie Segal

Co-Coordinator: Fall 2013-Spring 2014

Eco-Rep: Fall 2011-Spring 2012

Katie is so excited to be a co-coordinator for the 2013-2014 school year! As a senior at Tufts, she hopes to leave the university a little greener than when she found it. She was Co-President of Tufts Sustainability Collective in 2012 and served as an Eco Rep during her sophomore year. Katie is majoring in biology and environmental studies and hopes to pursue a career in renewable energy or corporate social responsibility. Born and raised in Los Angeles, Katie became interested in environmental issues after witnessing the effects of pollution in the city and along the California coast. Katie spent spring 2013 studying sustainable development in Copenhagen, Denmark. She even got the chance to climb a wind turbine and drive a 100% electric car!

Laina Piera

Co-Coordinator: Fall 2013-Spring 2014

Eco-Rep: Fall 2011-Fall 2012

Laina has been an Eco-Rep since her sophomore year — first in Miller Hall and then in Hill Hall. Originally from Connecticut, she is a senior majoring in child development and minoring in linguistics. For the last 6 weeks of high school, Laina completed her own zero-waste challenge and blogged under the moniker "Sustainable Laina" about ways that we can all cut down on waste. Since then, she has enjoyed learning more about sustainability through the Eco-Rep program. At Tufts, she also spends her time writing and editing news articles for the Tufts Daily, dancing in TDC, and making trips to Porter Square for delicious Japanese food. She is excited to be a co-coordinator for her senior year!
2012-2013 Eco-Reps
| | |
| --- | --- |
| Charlotte Clarke | Hill Hall (Spring 2013) |
| | Charlotte is a freshman from Carlisle, MA majoring in Environmental Studies and Sociology. She has been interested in issues concerning the environment since middle school, and has been a vegetarian since the ripe age of 8. She loves being outdoors, playing board games, and making music. She is involved in the sustainability collective at Tufts, and looks forwards to continuing her interest in environmental issues through academic and non-academic outlets during her time at Tufts. |
| | |
| Hayley Welsh | Tilton Hall |
| | Hayley Welsh is a sophomore majoring in Biology and Environmental Studies. She loves SCUBA diving, hiking and traveling to places she has never been before. Hayley is from New York City originally, but her interest in the environment began when she spent a semester living on an organic farm in Vermont. Her passion for SCUBA diving and the environment combined to make her very interested in marine conservation. She is very excited to start working with the Eco-Reps this year to make Tufts more sustainable and environmentally friendly. |
| | |
| Sidney May | Wren Hall |
| | Sidney is a sophomore majoring in Psychology and Environmental Studies, hoping to join the field of Conservation Psychology. Conservation Psychology is the scientific study of the reciprocal relationships between humans and the rest of nature, with a particular focus on how to encourage conservation of the natural world. Sidney was born in Walla Walla, Washington, then moved to Arizona. Most recently she hails from Chelmsford, Massachusetts. She love all things outdoorsy as well as cooking and eating vegetarian. She was an Eco Rep for Tilton last spring, and she is so excited to be spreading eco love in Wren this year! |
| | |
| Vishakha Ramakrishnan | Bush Hall (Spring 2013) |
| | Vishakha is a sophomore from Warren, NJ, majoring in Economics and Community Health. She is interested in environmental resource conservation, and is excited to help Tufts become a more environmentally friendly campus! She is a vegetarian, and loves singing, puppies, and chocolate. In her spare time, she likes to play the piano and drink chai from the Rez. She can't wait to join the Eco-Reps team! |
| | |
| Elizabeth Webber-Bruya | Richardson House |
| | Liz is a sophomore from Seattle, Washington. At Tufts she is planning on majoring in geology and environmental studies.  When not fixing bikes or planning events for Tufts Bikes she can be found hiking, running, or playing her violin. |
| | |
| Hayley Ernyey | Lewis Hall |
| | Hayley Ernyey is an undecided Sophomore who grew up in Egypt and other countries in the Middle Eastern region.  She loves playing Ultimate Frisbee and Soccer and on the weekends can be found outdoors canoeing, kayaking and hiking with the the Tufts Mountain Club. Her interest for nature and the environment stemmed from a 45 day canoe trip in Nunavit, Canada. Hayley cannot wait to work with Eco-Reps this year to develop and promote sustainable environmental programs at Tufts. |
| | |
| Evan Bell | South Hall |
| | Evan Bell is a sophomore hailing from Bethel, Connecticut. He is studying physics and religion at Tufts, seeking, in the broadest of terms, the answer to the great question: why? When not lost in a textbook or in his own thoughts, Evan can be found throwing a frisbee or shooting hoops behind his home-sweet-dorm, South Hall. His interest in the environment and its preservation began at a young age, but that interest has since blossomed into a passion. A transcendentalist at heart, Evan seeks to retain the natural beauty that surrounds all of us here in Medford and across the globe. He will work to protect that which we have, and to develop that which we need here at Tufts. |
| | |
| Jack Eidson | Carmichael Hall |
| | Jack Eidson is a sophomore and is excited to be the Eco-Rep for Carmichael Hall this year. He is originally from Atlanta, where he was active in the environmental club at his high school. At Tufts, Jack is planning on double-majoring in Quantitative Economics and Environmental Studies. Outside of class and Tisch, he is a member of the Sustainability Collective and is on support staff for Tufts Wilderness Orientation. |
| | |
| Arshiya Goel | Hodgdon Hall |
| | Arshiya Goel is a sophomore majoring in Biology at Tufts. Growing up in many diverse countries coupled with her natural curiosity for environmental issues has made her passionate about protecting the environment. Particularly interested in conservation biology, she believes in raising awareness to protect animals in the wild. At Tufts, Arshiya can be found performing with Tufts Tamasha or meeting with Synaptic Scholars when she is not convincing her friends about the importance of composting. She is looking forward to working with the Eco-reps team to make Tufts more environmentally friendly. |
| | |
| Jenny Dranetz | Metcalf Hall |
| | Jenny is a sophomore from Chester, NJ double majoring in Biology and Environmental Studies. Spending her summers on the beach sparked her interest in the environment and marine conservation. She can't wait to bring her enthusiasm and excitement to back Tufts to make the dorms a greener place to live. Jenny loves biking, running, and playing for the Tufts Club Tennis Team! |
| | |
| Carolyn House | West Hall (Spring 2013) |
| | Carolyn grew up in Simsbury Connecticut, and is now a soon-to-be-declared IR and Environmental Studies major here at Tufts! This is her first semester as an Eco Rep and she is excited to get creative with bringing eco-friendly fun to West Hall! Carolyn is a part of Special Friends and a teacher for CORES. She loves eating adventurously, watching sitcoms, and being a goof. Ultimately, Carolyn wants to work in environmental policy, and she has a particular interest in water issues.  She can't wait to bring her energy and positivity to the table this semester to raise interest in living sustainably! |
| | |
| Dani Bennett | Houston Hall |
| | Dani is a rising sophomore from New York City, and is very excited to start her work as an Eco-Rep. Her passion for environmental issues started years ago (thanks to Al Gore and An Inconvenient Truth), and she has been adamant about them ever since. Dani has focused on the policy side of environmentalism, with projects including assisting with research at farmers' markets in NYC and developing programs to promote recyclable drinking cups, and has also worked on an organic farm in Long Island for a more hands-on perspective. In her free time, she enjoys, among many things, playing soccer and frisbee, singing in the Tufts Concert Choir, and eating PB and J sandwiches, one of her favorite foods. |
| | |
| Alex Salvatore | Miller Hall |
| | Alex is an undecided sophomore intending to double-major in math and philosophy. She was born and raised in Laguna Hills, CA. There she developed a love for the outdoors by swimming, hiking, fishing, kayaking and golfing. She first learned about sustainability while beginning a compost in seventh grade. Lately, she is interested in environmental history and eco-conscious public transportation. |
| | |
| Norihito Naka | Haskell Hall (Spring 2013) |
| | Norihito is an international student from Japan.  He has always loved the environment, spending much of his days by the Pacific and Atlantic Oceans.  Since he always lived within and alongside nature, Norihito thinks of it as just an extension of himself.  Just as he takes care of himself, he wants to make sure that the world around him is healthy and sustainable.  As an Eco-Rep, Norihito hopes to help others find their own reasons to make the environment even just a little bit better for the communities around them. |
| | |
| Ben Rabe | Blakeley Hall |
| | Ben is a first year graduate student at the Fletcher School focusing on International Environment & Resource Policy and Economic Development. Before moving to Tufts, Ben worked for an environmental nonprofit in St. Paul, MN as an energy audit for three years. He graduated from Macalester College in 2009 with at BA in International Studies, Political Science and Anthropology. Ben enjoys biking and playing bass guitar. |
| | |
2012 Fall Only Eco-Reps
| | |
| --- | --- |
| Claire Heinegg | South Hall |
| | Claire is a senior graduating early with a double major in Child Development and Community Health, and a minor in Leadership Studies. She was an RA in Houston Hall for two years and last year was also their Eco-Rep! She had a fantastic time getting to know the other Reps and the residents in the dorm and is looking forward to doing it again this fall! Originally from New Jersey, she loves to adventure outside and spend time with her friends. As a vegetarian, she also enjoys finding yummy recipes to make! On campus, Claire is also on the board of the Child Development Association, a member of TDC, and attends social justice events! |
| | |
| CJ Ghanny | Bush Hall |
| | Christopher John "CJ" Ghanny's first experience with sustainable practices was at age 11 when he made a compost bin for his backyard. Since then, he has kept environmental causes close to his heart and currently interns at TuftsRecycles! on campus, where he gets paid to dig through  people's trash and yell at them if they don't recycle. He is majoring in Sociology and Peace and Justice Studies and can be found procrastinating in Dewick and sassywalking in Jackson Gym for TDC practice. |
| | |
| Chantal Davis | West Hall (Fall 2013) |
| | Chantal is a junior at Tufts double-majoring in International Relations and Environmental Studies. Originally from Berlin, Germany, she spent her high school years in Oakland, California, where she discovered her passion for the environment. At Tufts, she is the Events Coordinator for the Tufts Sustainability Collective and an organizer of the Tufts Energy Conference. She also loves singing in the Tufts Chamber Singers and Concert Choir and dancing on the Tufts Ballroom Team, and is very excited to be joining the Eco-Reps team this year! |
| | |
| Lauren Deaderick | Haskell Hall |
| | Lauren is a senior at Tufts majoring in Economics. Born and raised in Long Beach, CA, Lauren enjoys surfing and golfing.  After interning with the U.S. Fish and Wildlife Service at Chincoteague National Wildlife Refuge as well as with the National Wildlife Refuge Association, Lauren's passion lies in protecting public lands as well as sustainable development. |
| | |
| Laina Piera | Hill Hall |
| | Laina is a junior from Newtown, CT majoring in Child Development and minoring in Linguistics. She was the Eco-Rep in Miller Hall last year and loved seeing the dorm transform into a greener space. For the last 6 weeks of high school, Laina completed her own zero-waste challenge and blogged under the moniker "Sustainable Laina" about ways that we can all cut down on waste. At Tufts, she spends her time writing and editing news articles for the Tufts Daily, dancing in TDC, and making trips to Porter Square for delicious Japanese food. She is very excited to meet everyone in Hill! |
| | |
2011-2012 Eco-Reps
| | |
| --- | --- |
| Claire Heinegg | Houston Hall |
| | Claire is a junior majoring in Child Development, Community Health, and minoring in Leadership studies. She is very excited to start working as an Eco-Rep. She also works as an RA on campus in an all-freshmen dorm and is on the board of the Child Development Association. A true Jersey girl, she loves being at the beach, reading, and baking. |
| | |
| Hallie Abelman | Metcalf Hall (Fall 2011) |
| | Hallie is a sophomore from St. Petersburg, Florida majoring in Community Health and English. Her other activities include Tufts Wilderness Orientation, Compass Partners, and exploring Boston by bike. Hallie is super excited for her first year as an Eco Rep! |
| | |
| Josh Metersky | South Hall |
| | Josh is a sophomore majoring in Environmental Engineering and minoring in Architectural Studies.  He is from Avon, Connecticut where he has been involved in environmental action since grade school.  This year he will also be serving as the Treasurer of the Tufts Sustainability Collective and the Media Coordinator of Tufts Bikes.  In his spare time, Josh enjoys swimming, playing piano, and reading. |
| | |
| Julie Golinksi | Hill Hall |
| | Julie is a junior majoring in Biopsychology. On campus, Julie races for the Tufts Ski Team and is an active member of the Culinary Society and the Mountain Club.  She is from Ohio, where she tends her organic vegetable and flower gardens in the summer. When she's not in the library studying, Julie likes to hike, rock climb, and eat desserts |
| | |
| Katie Segal | Hodgdon Hall |
| | Katie is a sophomore from Los Angeles, California. Living close to an ocean and a huge, polluted city has opened her eyes to many of the environmental issues facing our planet. At Tufts, Katie plans to major in Environmental Studies and Biology, with a minor in Political Science. Over the summer, she helped with a conservation project in a remote part of Costa Rica. Last year, she lobbied an environmental bill to Congress in DC. On campus, she is also involved in Tufts Sustainability Collective, and enjoys traveling, reading, and dancing in her free time. Katie is ecstatic to join the Eco Rep team! |
| | |
| Laina Piera | Miller Hall |
| | Laina is a sophomore from Newtown, CT, and she plans on majoring in Child Development and minoring in Linguistics. For the final 6 weeks of high school, she didn't throw anything in the trash and she blogged under the moniker "Sustainable Laina" about ways that we can all cut down on waste. At Tufts, she spends her time writing and editing news articles for the Daily and making trips to Porter Square for delicious Japanese food. Sustaina Laina is so excited to get to know everyone in Miller and make the dorm a greener place! |
| | |
| Melanie Rubin | Bush Hall |
| | Melanie is a sophomore majoring in Environmental Engineering. She is from Westport, CT where she helped to design a windmill and irrigation system this past summer. She is excited to get involved in Eco-Reps this semester. When she's not spreading environmental awareness, she enjoys playing soccer and listening to music. |
| | |
| Thiago Lima | Lewis Hall |
| | Thiago is a junior from Danbury, Connecticut majoring in International Relations with an International Security focus. He spent the last semester studying abroad in Morocco where he explored the Sahara and had lots of mint tea. On campus he runs mid-distance for the Cross-Country and Track & Field teams, hikes with TWO, and is involved with a number of other student groups. This summer he interned for an environmental NGO where he worked to increase incentives for Massachusetts solar power. Thiago was the Eco-Rep for Lewis Hall last year and is excited to continue promoting sustainable behavior this semester. |
| | |
| Nicolas Lusardo | Haskell Hall |
| | Nick is a sophomore majoring in International Relations, with a minor in Brain and Cognitive Sciences. He is from Louisville, Kentucky where he was an active member of his high school's environmental club, encouraging local and worldwide environmental awareness through school-wide waste management and reduction projects, and helping to design and implement a school raised-bed garden. At Tufts, he is the Co-Director of Marketing for the Tufts Energy Conference and Media Manger of Tufts Bikes, the newly implemented university-wide bike-sharing program. In his free time, Nick enjoys hiking, rock climbing, exploring Boston, and traveling. Nick is looking forward to furthering Tufts eco-potential! |
| | |
| Sidney May | Tilton Hall (Spring 2012) |
| | Sidney is a Freshman, undeclared, but most likely majoring in Psychology and Environmental Studies. She hails fom Chelmsford, Massachusetts and is really excited for her first semester as an Eco-Rep. In her spare time she likes to hike, play Frisbee, snowboard, and bake tasty vegan treats! |
| | |
| Chris Ndung'u | Blakeley Hall (Spring 2012) |
| | Christopher Gitari Ndung'u is currently studying a Masters of International Law (LLM) at Fletcher School of Law, Tufts University. At Fletcher Chris is focusing on interface between International Investment Law and International Human Rights Law. Christopher is proud to be associated with the Eco Rep program and looks forward to working with Blakeley Hall residents who are ardent fans and enthusiasts of the eco movement. Christopher, an Advocate of the High Court, hails from Tetu Constituency, Nyeri County in Kenya -the same region with the great African leader and environmentalist Nobel Laureate Wangari Maathai (the late). It is from her that he quietly draws inspiration and fortitude in environmental and political action. |
2010-2011 Eco-Reps
| | |
| --- | --- |
| Lincoln Giesel |  Wren Hall |
|   | Lincoln is a sophomore who hails from from Louisville, Kentucky.  He lives in the Wren 410's and is planning on majoring in International Relations.  He loves the outdoors and is pumped about making Tufts as green as possible! Love yo mama. Love yo planet. |
| | |
| Jessie Pearl | Carmichael Hall |
| | Jessie claims the Bay State as her home. As a Jumbo she is double-majoring in Environmental Studies (science focus) and geology. Jessie plays on multiple intramural teams, leads hikes with Tufts Mountain Club, plays off-season Rugby, works in the Tufts Archives, and plays in the wind ensemble. She enjoys weekly trips into Boston for events (public transportation!) and brainstorming Eco-Rep ideas! She loves to ski (Nordic and alpine), climb, bike, hike and swim! In the past, Jessie created a "How Big is Your Carbon Footprint?" calculator for her local school system and led environmentally educational hikes for kids in urban areas. Jessie is an Eco-Rep Coordinator for 2011-2012. |
| | |
| Claudia Tajima | Miller Hall |
| | Claudia grew up in the beautiful valley of Amherst, Massachusetts. Claudia is currently a Junior double-majoring in Environmental Studies and International Relations with a focus on Latin America. When not hitting the books at club Tisch, Claudia plays Ultimate Frisbee, enjoys the outdoors with Tufts Mountain Club, bikes anywhere and everywhere, hosts an electronic radio show, and choreographs for Tufts Dance Collective. In the summer of 2010, Claudia interned at a sustainable construction company in Western Massachusetts and traveled Europe after playing in a Frisbee tournament. Claudia is an Eco-Rep Coordinator for 2011-2012. |
| | |
| Rose Eilenberg | Houston Hall |
|   | Rose is from Brooklyn, NY and has been interested in environmental issues since learning about them in summer camp. She has been involved in various forms of environmental activism, from teaching the same program that got her started to devoting her studies to mechanical engineering and environmental studies, with a focus on renewable energy. She is excited about her latest foray into the world of environmentalism: the Eco-Reps program. |
| | |
| Melissa Langer | Carpenter House |
| | Melissa, a sophomore from the suburbs of Philadelphia, is a premed student at Tufts planning to declare a biopsychology major. She is on her way to becoming fluent in Spanish and is very interested in learning about Hispanic culture. Outside of classes, she enjoys volunteering in several community service programs, especially those with children, and tries her best to stay in shape. Melissa loves to participate in outdoor activities and aspires to travel around the world. She is dedicated to protecting the environment and promoting awareness on ecological issues, so she is excited to share this passion with her fellow Jumbos through the Eco-Reps program. |
| | |
| Thiago Lima | Lewis Hall |
| | Thiago was born in raised in the big town/small city known as Danbury, CT. A sophomore at Tufts, he is undeclared but intends on double-majoring in International Relations and Sociology. Thiago is a member of the Tufts Cross-Country and Track & Field teams. When Thiago isn't running, he can be seen working with the Jumbo Janitor Alliance, support-staffing Tufts Wilderness Orientation, and eating party waffles at Dewick. This is his first year working through the OOS as an Eco-Rep and he is excited to help Tufts become more sustainable and to increase environmental awareness among the student body |
| | |
| Pat Oungpasuk | Hodgdon Hall |
| | Pat spends 28 hours traveling via airplane twice a year to get to cold, cold Boston from her home in hot and humid Bangkok, Thailand. She's currently a sophomore with no purpose life (aka not yet declared a major), but is optimistic that she'll finally figure out what to do within the next few months. She loves hiking, eating, and exploring Boston on foot, and is always up for an adventure. When she's not outside, she's probably studying or watching her favorite TV shows (House, Glee, How I Met Your Mother, The Big Bang Theory). Pat's pretty psyched to be an Eco-Rep this year and to help make the Tufts community a little friendlier to Mother Earth, all the while getting to know her fellow Hodgdon/Hodgwarts inhabitants more! |
| | |
| Dani Jenkins | Hill Hall |
| | Dani Jenkins comes from Wilton, CT, just east of the New York border. At Tufts, she would like to double major in English and Environmental Studies with a focus in Environmental Science. In her free time, Dani rocks out on the Clarinet and the Ukulele, bikes, and writes short stories about an exuberant seven-year old. She also spends a ridiculous amount of time cooking and reading. This is Dani's first year working for the Office of Sustainability and she is very excited to make Tufts a greener place. |
| | |
|  Emily Ruff | Sophia Gordon Hall |
| | At Tufts she majored in International Relations and minored in Arabic. A native of Cleveland, Ohio, Emily uses phrases like "pop" and "y'all," but don't let that dissuade you from striking up a conversation about your favorite eco topics. Emily is the co-founder of a youth-led, bike-powered composting business, Somerville SoilCycle. When not wandering the world or rucking on the rugby pitch, Emily spends her time apple picking on campus and tuning up bikes. This past spring Emily spent the semester in Amman, Jordan learning Arabic and working for the Royal Society for the Conservation of Nature, Jordan's biggest and only official environmental organization. Always keen to talk about all things green, Emily can often be found munching on fruit around campus or riding her bike, Daniel. This is her first year working with OOS and Emily can't wait for the ecological adventure to take flight throughout campus! Emily graduated in 2011. |
| | |
| Alyssa Kody | Fall 2010 |
| | Alyssa is from central Massachusetts and is majoring in Civil Engineering. Here at Tufts, she is a representative of the American Society of Civil Engineers, the secretary of the Engineering Student Council, and a STOMP fellow. In her free time, she likes to read and run. She also recently learned to rock climb! She is excited to be an Eco-Rep and promote sustainability at Tufts. Hug a tree! |
| | |