Earth Month Event: Be Green, Be Healthy!
Come visit us! Your planet and your body will thank you.
The Tufts Office of Sustainability presents Be Green, Be Healthy, our multi-day Earth Month event to inspire students to think about biking, eating, and traveling sustainably!

We will be in Mayer Campus Center during April with Trivia, Free Food, Prizes, and Information for Students. Don't forget to check out our ongoing Sustainable Selfies Contest too!
TRAVEL Green: Monday April 14th
- MassRides will present MBTA Maps, Charlie Cards, and the NuRide Commuting Program.
- Get free Walking Maps and Eco-Maps of Tufts
- Ask a Health Coach about getting exercise during your commute!

EAT Green: Wednesday April 16th
- Sample some meat-free dishes from Tufts Dining!
- Get recipes for farm share vegetables from WorldPEAS CSA
- Play the Trivia game "Rethink Your Drink" and guess nutrition facts for prizes!
BIKING at Tufts: Wednesday April 23rd
- Get bike maps
- Bring your bike in for a FREE tune-up from Tufts Bikes' mechanics
- Learn about local companies Hubway and Bike Boom!
- Register your bike with the TUPD
Visit our Facebook Page and Blog for more information!
2014 Campus Sustainability Progress Report Now Available
The Tufts Campus Sustainability Council has released a Progress Report for 2014! The report features notable areas of achievement toward related goals and objectives from the 2013 report, graphical data from the 2013 fiscal year, and examples of upcoming projects.
Download the progress report here or read it online.
The original Campus Sustainability Council Report was released in May 2013, detailing goals and recommendations for the university defined by the Council in the areas of energy use and carbon emissions, building standards, waste management, and water. The Campus Sustainability Council was convened by President Tony Monaco in January 2012, after he identified sustainability as one of his administration's strategic initiatives. (Read more updates here.)
_____________________________________________________
Come visit the Office of Sustainability on campus!
We are located in the back of Miller Hall, across the parking lot from Hillel. We share a space with the Tufts Institute of the Environment and Environmental Studies Program.

View Tufts Office of Sustainability in a larger map or to get directions
Download the new Tuts Eco-Map (in PDF) if you are looking for eco-friendly resources on the Medford campus like compost stations and recycling bins.
Sustainable Selfies Contest
Sustainable Selfies Contest
WEEK 10!

ROUND 10 of the Sustainable Selfies Contest! Here's your next prompt. You have until next TUESDAY, April 22nd (Tufts is off for Marathon Monday), at noon to gather likes! So share widely.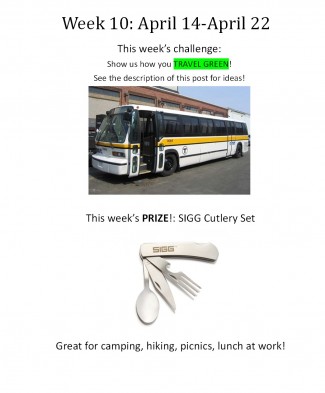 Ideas:
-Take a picture of yourself with your bike (not while in motion!), at TuftsBikes office hours, or at a Hubway station
-Take a picture of yourself using ZipCar (NOT WHILE DRIVING) or another car-sharing service; take a picture of yourself at one of the ZipCar locations on campus
-Snap a selfie on the T
-If you're the passenger, snap a selfie of yourself carpooling!
________________________________________
Make sure to post your selfie on the Office of Sustainability Facebook page! If you post it on your own page, we'll never see it!
New to the contest? Get started here: http://on.fb.me/1fgVcuw
See more of our tips for sustainable travel: http://bit.ly/1oMENZb
Want to learn more about the cool prize we're offering? This cutlery set from SIGG provides an awesome alternative to disposable cutlery. It's perfect for a hiking or camping trip, a picnic, or even just in your office. Learn more: http://bit.ly/1hhn5ba