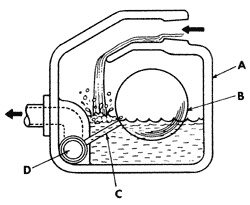 Tufts installed steam traps throughout its campus steam system in XXX.
A steam trap is "an automatic valve that releases condensed steam (condensate) from a steam space while preventing the loss of live steam." There is an illustration of a steam trap at the right of this page. (Source:www.steamonline.com)
These traps help Tufts save significant amounts of water and energy on the Medford/Somerville campus because the university uses its steam more efficiently. The process of creating steam at the Tufts Central Plant and at other boilers around campus is very energy intensive, so by reducing the amount of steam needed to adequately heat the campus, the university can reduce the amount of energy it uses, and thereby reduce the greenhouse gas emissions associated with that energy use.
Office of Sustainability/Tufts Climate Initiative worked with the Energy Manager and the Vice President of Operations to get this project completed quickly. Funding from the Tufts Energy Reserve Fund paid for this nearly $400,000 project and the savings from this project goes back into the Energy Reserve to help fund future efficiency projects.
This is another great example of how OOS/TCI works behind the scenes to support projects that have a real, measurable impact on the university's emissions.