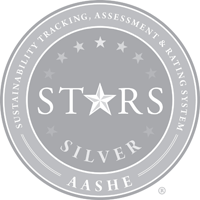 STARS is "a transparent, self-reporting framework for colleges and universities to measure their sustainability performance."
STARS was developed by AASHE to include participation from a broad section of the higher education community.
STARS is designed to:
Provide a guide for understanding sustainability in all areas of higher education.
Allow for meaningful comparisons over time and across schools using a common framework developed through the participation of members of campus sustainability communities.
Create incentives for perpetual improvement with regard to sustainability.
Provide a means for information sharing about higher education sustainability methods and performance.
Build a better, more diverse sustainability community across campuses.
The STARS program is intended for use by a wide range of colleges and universities – from community colleges to research universities, and from schools just creating programs in sustainability to leaders in the sustainability field. STARS provides sustainability goals for institutions along every step of their sustainability plans, from entry points of recognition for beginning schools to long-term sustainability goals.
STARS at Tufts
In August, 2011 Tufts completed the Sustainability, Tracking, Assessment and Rating system (STARS), earning a rank of Silver. Click on the links below to see a summary of the ranking, the full STARS report, and an article on the ranking.
As STARS rankings are recognized for three years, Tufts University began its resubmission for a 2014 Stars Ranking.
Article on Tufts STARS Ranking
2014 STARS Report

How Tufts Compares
Click on the links below to see how Tufts compares to other 4-year institutions with an enrollment of 5,000-9,999 who had submitted STARS results by October 2011. There are three main categories in STARS which measure the sustainability performance of an institution, covering environmental, social, and economic sustainability. In addition schools can apply for up to four "innovation" points for special programs or projects that are not captured within the other sections.
---
---
---
---