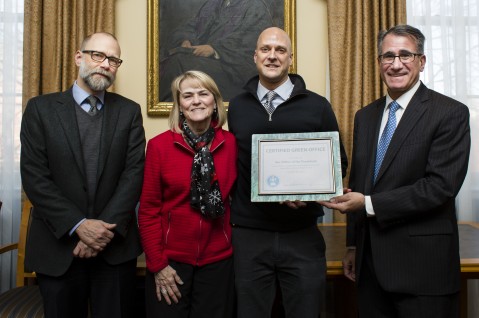 About the Green Office Certification Program
The Green Office Certification program supports, promotes, and recognizes offices that are engaging in sustainable practices.  Offices may achieve certification based on the score they receive on a checklist of green office criteria in the areas of Energy & Water Use; Waste & Recycling; Paper, Printing & Office Supplies; Food, Beverages & Dishware; Transportation; and Sustainability Planning & Leadership.  There are 4 levels of certification, allowing offices to be recognized for their current conservation efforts while still providing offices with a goal to work toward:
Bronze: 60-74%                    Silver: 75-84%
Gold: 85-94%                        Platinum: 95-100%
Offices that achieve any level of certification will:
Receive an official framed certificate for display
Be recognized in the Office of Sustainability newsletter and on the Office of Sustainability's website, Facebook, and Twitter pages
How to get Certified
Download the Green Office Certification Checklist from the link provided in the form and save it to a central location where you and/or your colleagues can regularly access it.  Click here to preview the criteria included in the checklist.
Fill out the checklist to assess your office's current standing.  The checklist will provide you with action items you can implement to fulfill criteria that you do not yet meet.
As you make improvements in your office, update the checklist, and your preliminary score will automatically update.
When you achieve your desired level of certification, submit your checklist to SustainabilityOffice@tufts.edu.  The Office of Sustainability will review and finalize your score and level of certification and set up a time to present your certificate!
As you continue to implement sustainability initiatives in your office, continue to update the checklist, and re-submit it as you become eligible for higher levels of certification.
Benefits of the Green Office Program
Collaborate with your colleagues to create a comfortable, healthy, safe, and green work environment
Save your office money while conserving resources and reducing your waste production
Be part of Tufts' proud history of sustainability and play a key role in helping the university achieve the goals outlined in the President's Campus Sustainability Council Report
Be recognized as a campus sustainability leader
Questions about the program, using the checklist, or specific criteria?  Please email us.