View the 2015 Student Sustainability Leadership Symposium Website
The 2014 Eco-Rep Symposium was held at Tufts University in Medford, MA on Nov 15th from 11am – 5:30 PM
Watch our recap video of the #EcoSympo
Schools attending:
Babson College
Bard College
Bates College
Bentley University
Boston University
Bowdoin College
Brown University
Castleton State College
Champlain College
Clark University
Colby College
Connecticut College
Endicott College
Harvard University
Ithaca College
Johnson State College
Keene State College
Lehigh University
Mount Holyoke College
Princeton University
Roger Williams University
Smith College
Stonehill College
Tufts University
UMass Amherst
University of Vermont
Wellesley College
Wentworth Institute of Technology
Wesleyan University
Yale University
Are you attending the 2014 Eco-Rep Symposium?
The Eco-Rep Symposium at Tufts University in Medford, Mass. is designed for:
Student or staff members involved with an Eco-Rep (or similar) program at a college or university.
People not a part of an established Eco-Rep program but who would like to learn more about these peer-to-peer sustainability engagement and education programs across the Northeast.
People who are interested in learning about topics such as effective dorm engagement, behavior change tools, composting, improving campus partnerships, and more!
The 2014 Eco-Rep Symposium at Tufts University will bring together the region's most passionate student leaders for sustainability. Students will have the opportunity to share insights from their campus experiences and build networks they will be able to tap into for future sustainable ventures.
Check out our promo video for the 2014 Eco-Rep Symposium!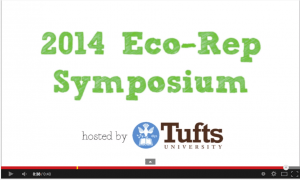 Registration:
The main portion of the symposium will take place on Saturday, November 15th with registration beginning at 11am and activities ending at 5:30 pm. Tickets are $15 for students and faculty/staff. Registration for the symposium includes lunch and snacks on Saturday.  Tufts Eco-Reps and symposium organizers will provide inexpensive suggestions for dinner options both on and off campus for attendees. Since there is limited space for the symposium, we will be capping registration at 10 people per university. If you wish to bring more than 10 people to the symposium there is a place after you purchase tickets where you can request additional spots. We will contact you after registration has closed to let you know if there are additional spaces available. Registration closes on September 7th.
The following day, Doug McKenzie-Mohr will offer a special Introduction to Community-Based Social Marketing (CBSM) for students (sorry, no faculty/staff). He is providing this special opportunity just for students who attended the symposium on Saturday for the very low price of $15 per person. Registration for Sunday's CBSM workshop for students only includes a light breakfast and lunch. We can arrange dorm housing (e.g. a spot on the floor) for students who stay Saturday night. Staff and Faculty are encouraged to register for his Introductory and Advanced CBSM workshops taking place during the following week also here at Tufts and may not participate in the Sunday workshop. For more information and to register visit his website.
If there is interest, we will organize professional development activities for staff members on Sunday while their students are in the workshop (e.g. trip to the aquarium with your fellow sustainability officers!). Activity costs for Sunday's staff event are not included in the registration.
Register for the 2014 Eco-Rep Symposium on Nov 15th and Doug McKenzie-Mohr's workshop on November 16th, here.
Want to host a session?
We need students and faculty/staff to host sessions during the 2014 Eco-Rep Symposium. If you are interested read about the session types below.
Each institution may fill out this survey more than once in order to submit proposals for different types of sessions. There is no limit to the number of symposium proposals an institution can submit.
Please fill out this survey by Tuesday, October 7th. Sessions will be selected on October 19th.
Submit your session proposal, here.
3 session types for the 2014 Eco-Rep Symposium:
1) Panels. 3-5 students from different universities will participate in a moderated discussion on a particular topic. We will have 2 panels: one on composting and one on competitions & other incentives that work. The panels will be moderated by a Tufts Eco-Rep. Each panel member will have 5 minutes to discuss their experience with the topic. The panel will then field questions from the moderator and from the audience. Presentation length: Around 5 minutes, plus Q&A
2) Skill-building workshops. These workshops will focus on specific skills related to Eco-Rep programs and must include an interactive component that will give attendees a chance to work on these skills. These workshops may be hosted by students, staff, or experts in a given topic. Presentation length: 1 hour, including interactive component led by presenter. Examples of possible skill-building workshops include:
How to design effective marketing materials
How to organize fun and educational environmental games and activities
How to create a video to highlight green living
3) Case studies. These presentations are similar to the ones in previous years, in which students present a full explanation of an Eco-Rep initiative at their school. Presentation length: 15 minutes for each school, plus Q&A. Ideally, these case studies would include:
A one-slide introduction to your school (location, size, etc.)
A brief introduction to your Eco-Rep program (size, structure, etc.)
Explanation about the initiative, including the planning stages, implementation, and outcome
Discussion of your lessons learned and key takeaways from this initiative
What topics should you present on?
Based on the results of our summer survey, these are the topics that respondents are most interested in learning about:
How to communicate with students
Innovative programs
Improving campus partnerships
Composting
Advertising and social marketing
Competitions and incentives that work
Event planning
Building an Eco-Rep program
Engaging with Greek Life
Please email
EcoRepSymposium@gmail.com

with any questions!