The Eco Ambassadors have compiled tips to send out to their offices either through existing newsletters or as part of a separate communication from them. Feel free to use them within your office!
The Idea of Sustainability: shared by Eco-Ambassador, Amy Navin

Local, organic food
The way we eat has an enormous impact on the health of the planet. By choosing to eat lower on the food chain, and focusing on local and organic produce, we can curb global warming and air pollution, avoid toxic pesticides, support local farmers and enjoy fresh, tasty food (NRDC).
The Office of Sustainability has put together some resources for you – from boxes of local vegetables delivered to you on campus to listings of nearby farmers markets (and lots of info on the benefits of eating locally). Check out the CSA page on our website for the low-down on the know-how to enjoy a crispy, crunchy and healthy summer!
Happy eating!
Saving Toner
Besides printing double sided/on scrap paper,MOST printers are equipped with one or more toner save/economode/draft options for printing.
Setting your printer to one of these options greatly reduces the amount of toner used and is good enough quality for 99% of what most of us need to print. These options are especially good for any draft documents that must be printed.  This will save on the cost of purchasing toner and reduce the number of toner cartridges wasted!
I have attached an example of how to set this option on two of the printers in my office.
(courtesy of Jeanne Eisenhaure)
Battery Recycling
Don't toss out those batteries — recycle!
Almost all batteries can be recycled at Tufts, with the exception of liquid and gel acid batteries such as car batteries. You can recycle batteries from home or work.
Batteries, ink cartridges, and cell phones can be dropped off in the white bucket in the lobby of 80 George St. (Find all the Medford campus locations on the Eco Map of campus). Please put a piece of tape over the ends to prevent a fire hazard.
Cell phones should be recycled (with batteries) because they contain hazardous metals and materials. Tufts Recycles! will donate them to MassRecycle.
Battery buckets are also located in all buildings on the Grafton campus and some on the Boston campus. For more information about recycling and other environmental issues on the Grafton Campus, contact Gretchen Kaufman at gretchen.kaufman@tufts.edu, or at 8-4913.
Find out more about Tufts Recycles! and how you can help recycling at Tufts.
(courtesy of Amanda Parker)
Green Cleaning: Simple Solutions
When it comes to cleaning up the planet, there's no place like home to start taking a look at what each individual can do.  Take a look at how you can make simple cleaning solutions from common ingredients, how to evaluate the labels of ready-made cleaners, recommendations on specific cleaners for different tasks, and where to find more information.
What Should I Look For When I Buy Cleaners?
(taken from: http://www.ehow.com/how_110332_buy-green-household.html)
Read the label.  Choose non-petroleum-based surfactants that are chlorine and phosphate free, (hint: if they don't say 'petroleum-free', they are not…) claim to be non-toxic, and are biodegradable.  Read the labels of cleaners and look for these four key signal words—caution, warning, danger, poison— which indicate the level of hazard.  Use the least hazardous product to do the job.  ("Caution" is least hazardous and "danger" is most hazardous.  Extremely toxic products must also include the word "poison.")
Avoid the most toxic elements: ammonia and chlorine.  Often found in scouring powders, laundry bleach, dishwasher detergent, and basin, tub, and tile cleaners, these chemicals are a prime cause of health problems and environmental pollution.  Ammonia is also an irritant that affects the skin, eyes, and respiratory passages.  The symptoms of ammonia exposure are:  burning sensation in the eyes, nose, and throat; pain in the lungs; headache; nausea; coughing and increased breathing rate.
Chlorine is the household chemical most frequently involved in household poisoning in the U.S. Chlorine also ranks first in causing industrial injuries and deaths resulting from large industrial accidents.  Chlorine is an acutely toxic chemical.
Avoid those really strong oven cleaners. Rule of thumb: the more miraculously it cleans, the more toxic it is.
Don't use toilet bowl fresheners and don't disinfect your toilet bowl (it's unnecessary to disinfect the inside of your toilet). (oh, and don't use disposable toilet brushes either…)
Look for:
'100% bio-degradable' and 'non-toxic'
Make Your Own Non-Toxic Cleaners!
Here are some basic (and inexpensive) ingredients for cleaners you can get at the grocery store and what they clean:
White Vinegar (don't use red wine vinegar or cider vinegar!):  Mix with water, and you have a great window and glass cleaner. Use vinegar on porcelain, countertops, and tile.
Baking Soda: This can also be used as an all-purpose cleaner. Just mix with water. Use especially for scouring sinks and tubs. Sprinkle over carpet as a deodorizer.
Salt: Use for deodorizing drains and garbage disposals. Salt can also be used as an abrasive in cleaning pots and pans.
Lemon Juice: Use as a bleach in laundry and on kitchen surfaces. It adds a fresh clean smell to cleaners.
Cornstarch: Sprinkle on carpet as a deodorizer. Mix with water and use a spray bottle for laundry starch.
Olive oil: Mix with vinegar for use as a furniture polish.
Any of these ingredients can be safely mixed together.  Experiment to find out what works best for each cleaning need.  Store mixtures in spray bottles, and remember to clearly label them for future use.  Maybe you can share cleaning products with your dorm mates too.  Check out what kind of cleaners you find at home.  Talk to your family about what they use, and see if any of these simpler solutions could replace a toxic cleaner.
Natural Homemade Cleaners and Chemical Replacers
(taken from http://www.geocities.com/Heartland/Hills/9684/fabric.html)
Hard Water Fabric Gel Soap
2 cups pure soap flakes
1 1/2 cups Borax
6 cups warm water
1/2 cup glycerin
2 teaspoons essential oil of either lavender, lemon or eucalyptus 
 
1) In a medium saucepan, stir together the soap flakes, borax, and water. Heat slowly and stir until the mixture is clear. Add the glycerin and set aside to cool. 
 
2) When cool, add the essential oil and stir thoroughly. 
 
3) Pour into a mason jar or other container and cover until needed. To use, add 1 cup of Gel per load of clothes, making sure the soap is dissolved well before adding clothes to the water. This gel works best with warm water, or dissolve it in a quart of warm water before adding it to the wash water. 

~~~~~~~~~~~~~~~~~~~~~~~~~~~~~~~~~~~~~~~~~~~~~~~~~~~~~~~~~~~~~
Fabric Softener

·  1/4 cup baking soda
·  1/2 cup white vinegar
1) Fill the washing machine or basin with water
2) Add the baking soda, stir it around to dissolve, then add the clothes.
3) After rinsing the clothes, make a final rinse and add the vinegar to it.
Another way to soften clothes is to add 1/2 cup baking soda to the wash water, or use 1 part soap flakes and 1 part borax in the wash water before you add the clothes.
All-Purpose Cleaner and Disinfectant
·  1 teaspoon borax
·  1/2 teaspoon washing soda
·  2 Tablespoons lemon juice
1) In a spray bottle that will hold at least a pint, combine the ingredients. Add 1 cup very hot water and shake well, mixing and dissolving the dry ingredients.
2) To use, simply spray and wipe. This can be stored indefinitely.

~~~~~~~~~~~~~~~~~~~~~~~~~~~~~~~~~~~~~~~~~~~~~~~~~~~~
Non-Streaking Spray Glass Cleaner
·  1/4 cup white vinegar
·  1 Tablespoon cornstarch
·  2 cups warm water
Put all ingredients in a large spray bottle. Shake well to dissolve the cornstarch. To use, spray liberally on the glass, wipe with a clean cloth. Buff to a streak free shine with a wadded up piece of newspaper.

~~~~~~~~~~~~~~~~~~~~~~~~~~~~~~~~~~~~~~~~~~~~~~~~~~~~~~~~~~~~~~~~
Septic Toilet Activator
Use this if there is a persistant odor from the septic tank and indications that the sewage digesting bacteria are not present in sufficient numbers
·  1 quart hot water
·  1 pound brown sugar
·  2 teaspoonsdried yeast
Dissolve the brown sugar in hot water and leave til it is luke-warm. Stir in the yeast, and immediately flush the mixture down the toilet. Do this last thing at night when there is not as much activity in the bathroom.

~~~~~~~~~~~~~~~~~~~~~~~~~~~~~~~~~~~~~~~~~~~~~~~~~~~~
Automatic Dishwasher Soap
·  2 cups borax
·  2 cups washing soda
Mix the washing soda and the borax and store in a plastic covered container. To use, add 2 tablespoons to the dishwasher soap compartment. If you have hard water, you may want to use the Spotless Dishwasher Rinse, below.

~~~~~~~~~~~~~~~~~~~~~~~~~~~~~~~~~~~~~~~~~~~~~~~~~~~~~~~
Spotless Dishwasher Rinse
1 to 1 1/2 cups white vinegar added to the rinse compartment of your dishwasher will do! Don't overfill. Add before washing.

~~~~~~~~~~~~~~~~~~~~~~~~~~~~~~~~~~~~~~~~~~~~~~~~~~~~~~~~~~~~
Dishwashing Liquid
This inexpensive soap does not suds up very much, but it cleans so well! Use with hot water. Do not use it in automatic dishwashers.
1/2 teaspoon lemon essential oil

1) In bowl combine soap flakes and water and stir until the soap is dissolved. Cool to luke warm.

2) Stir in the glycerin and the essential oil, leave to cool. As it cools it will form a loose gel. Stir with a fork and break up the gel and then pour into a narrow-necked bottle. An old shampoo bottle makes an excellent container.

3) To use, squirt 3 teaspoonfuls into hot running water.
~~~~~~~~~~~~~~~~~~~~~~~~~~~~~~~~~~~~~~~~~~~~~~~~~~~~~~~~~
Non-Toxic Toilet Bowl Cleaner
·  1 cup borax
·  1/2 cup white vinegar
1) Flush the toilet to wet the sides. Sprinkle the borax all along the sides of the inside of the bowl.
2) Drizzle the vinegar over the borax and leave over night.
3) Next day, scrub with a toilet brush and flush.

~~~~~~~~~~~~~~~~~~~~~~~~~~~~~~~~~~~~~~~~~~~~~~~~~~~~~~~~~
Oven Cleaner
·  1 box baking soda (16 0zs.)
·  1/4 cup washing soda
1) In a container mix the ingredients well.
2) Wet the floor and walls of the oven using a rag or paper towels.
3) Generously sprinkle the walls and floor with the mixture. Repeat and allow to sit over night.
4) In the morning, wipe all the grease and film away using an old rag. Rinse well.
5) Stubborn stains may have to be scrubbed with an abrasive pad and some salt.

~~~~~~~~~~~~~~~~~~~~~~~~~~~~~~~~~~~~~~~~~~~~~~~~~~~~~~~~~~
Lemony Furniture Oil
·  1 cup olive oil or vegetable oil
·  1 teaspoon lemon essential oil
Mix well. Apply with a soft rag. Wipe and buff well to a gleaming shine.
Travel Greener This Holiday Season
October 2009
Holidays mean family and fun, but they also mean more travel in planes, trains, and automobiles, which contribute to global warming by emitting carbon dioxide. According to the U.S. Bureau of Transportation Statistics (BTS), Americans take 54 percent more long-distance trips (50 miles or longer) during the Thanksgiving holiday than the rest of the year, and 23 percent more between Christmas and New Year's.
Unless you can walk or bike, you can't travel carbon-free. But you can minimize your emissions with these simple strategies:
Pad your schedule. If possible, start your trip a day earlier and/or return a day later. You'll not only avoid the stress associated with peak travel times, but reduce emissions as well. For example, when a car is stuck in traffic its fuel consumption rate can be double the rate at steady cruising speeds. If you must travel on peak days (most weekends), schedule your trip for non-peak hours and, if driving, use a GPS system with real-time traffic monitoring to avoid congested roads.
Traveling with family? Make it a road trip. The BTS reports that 91 percent of long-distance holiday travelers go by car. On a 500-mile trip, a family of four traveling in a typical SUV actually produces less carbon per person than flying or taking the train. If you can, though, leave the SUV at home and drive a hybrid or fuel-efficient conventional car instead—in addition to consuming more gas, SUVs emit up to four times more carbon than the most efficient hybrid. If you don't own a hybrid, consider renting one.
Fly the eco-friendly skies. First-class seating requires twice the space of coach and therefore produces twice the amount of carbon emissions per passenger, so always choose coach. Next, minimize the length of your trip by flying the most direct route, and minimize carbon-heavy takeoffs, landings, and ground operations by flying nonstop. If you're traveling solo, flying nonstop coach is actually better than driving any car—regardless of the distance traveled.
Get on the bus. No matter how many people are traveling with you, a bus pays the biggest environmental dividends. A couple traveling by bus, for instance, generates between 50 and 75 percent less carbon than flying or driving (especially on trips under 500 miles). Bus fares are often cheaper than airline tickets, and many now have similar amenities.
For more green traveling strategies, read the UCS report Getting There Greener: The Guide to Your Lower-Carbon Vacation.
(from the Union of Concerned Scientists)
The 12 Green Days of the Holiday Season
The Tisch Sustainability Team in 2009 offered their colleagues some suggestions over the few weeks before Christmas on how to green the holiday season. Also mentioned: "Some of the suggestions will also save you money- what a great gift!" Note that they did not save all the days – so you'll have to make up your own tips for those missing!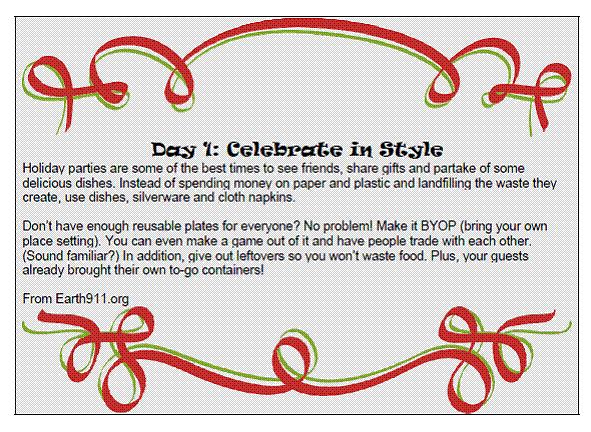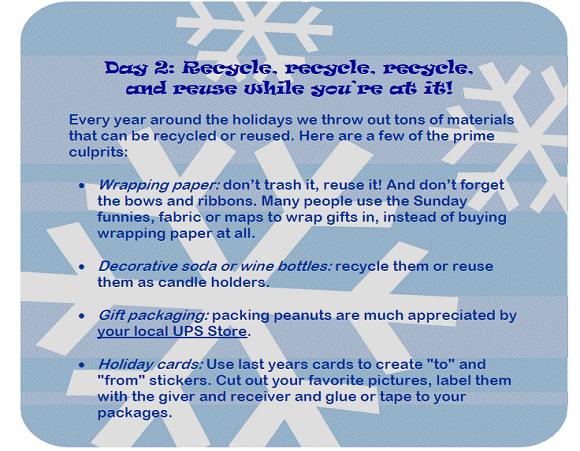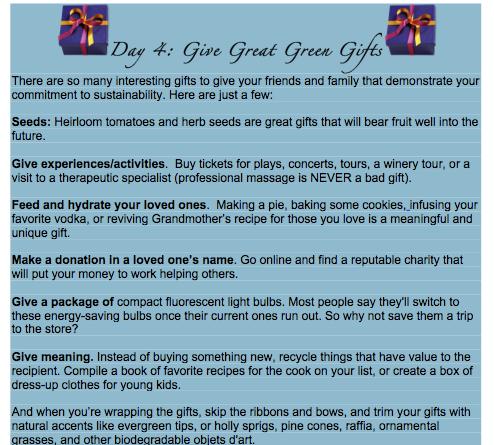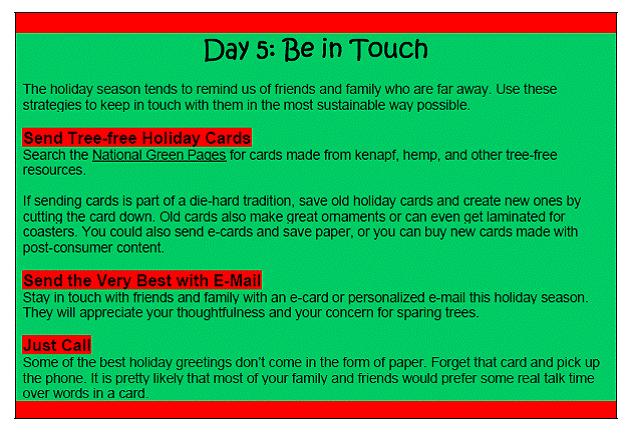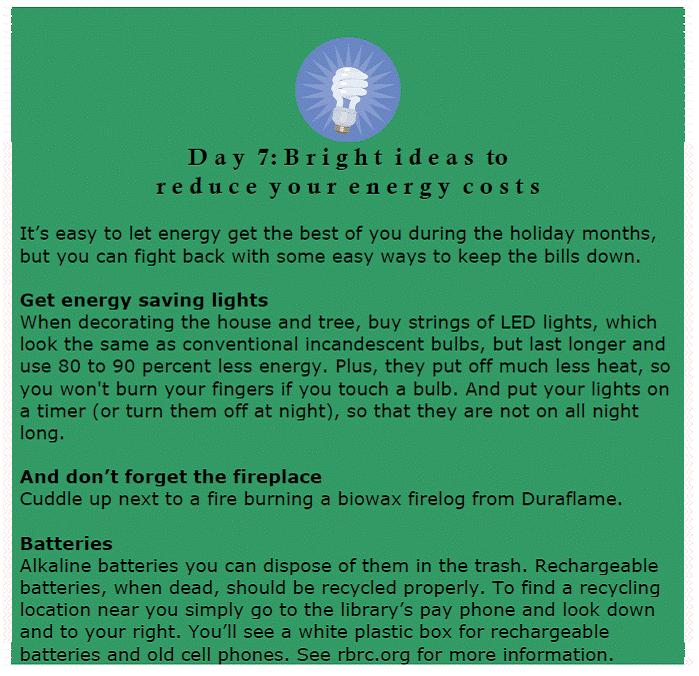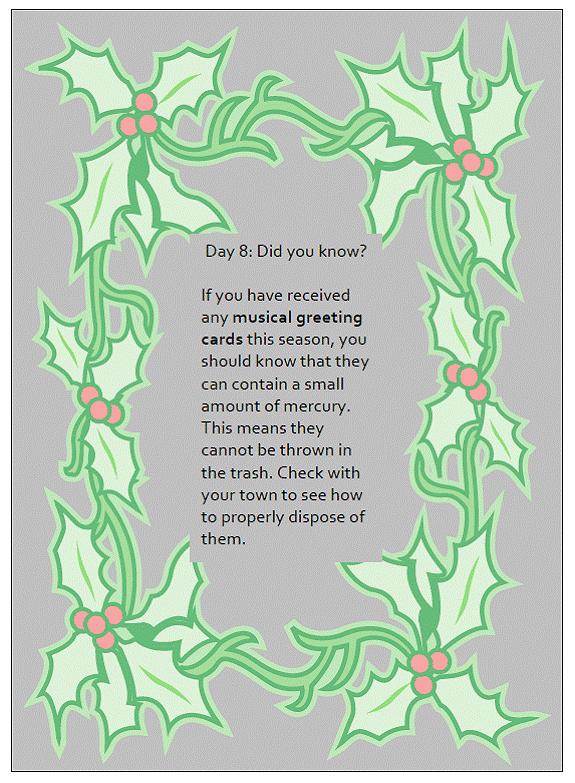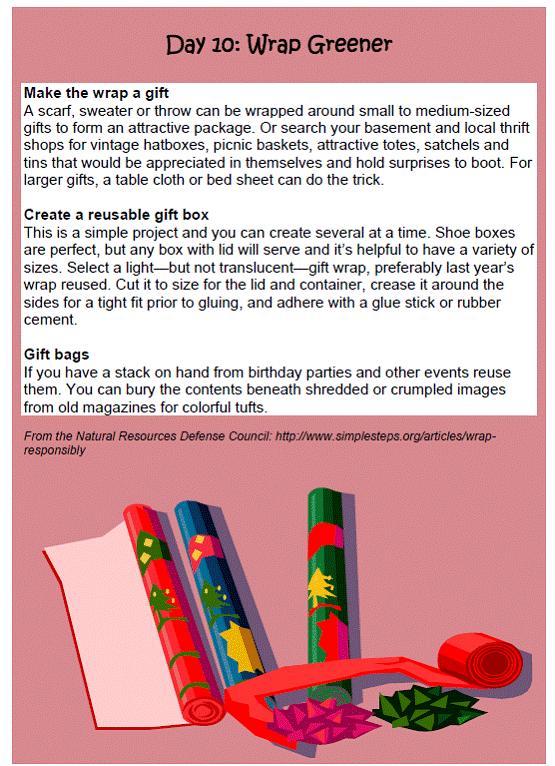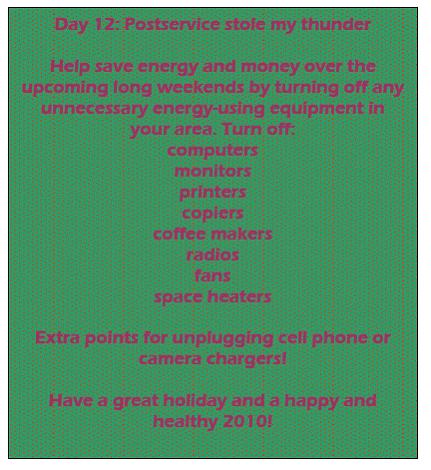 Green Purchasing
Roxana,  a Fletcher Staff Member and Eco-Ambassador produced this newsletter on green purchasing:
Good afternoon Fletcher Staff,
At my last Eco-Ambassador meeting, we discussed "green" products more in depth and how to identify if products are legitimately non-harmful to the environment or if the company is falsely marketing a green product to increase sales. This is important both personally and professionally when purchasing items.
In your personal life, it's always good to know what you are consuming. To assist in deciphering labels, The Office of Sustainability website has listed common labels we see in grocery and other stores to let us know if the "green-ness" of the products are reliable or unreliable: http://sustainability.tufts.edu/?p=149. Another great website is: http://www.greenerchoices.org/ and the EPA's Environmentally Preferable Purchasing site for more info on specific green products: http://www.epa.gov/epp/.
Here at Tufts, when purchasing items, you are encouraged to be conscious about the products you buy and how they affect the environment. Tufts purchasing and Staples have made it easier to order supplies that are recycled and environmentally friendly.
Staples and Purchasing have talked many times about ways to encourage more environmentally favorable practices at Tufts. Some of the ways they have done that is to:
1.      Subsidize the cost of recycled content paper (100% recycled content paper is discounted, but not yet the same price as virgin paper – this was a misunderstanding. Thirty percent recycled content paper IS the same cost as virgin);
2.      Put the "Eco-Easy" banner on the top of the Marketplace Staples' landing page so buyers can quickly find eco-friendly products
3.      'Auto-point' people to 30% recycled content paper when they look for copy paper;
4.      Increase the minimum order size to encourage order consolidation (see attached flyer). Order consolidation is also facilitated at Tufts (as of January this year) but allowing you to use more than one dept ID so offices can order supplies together (feel free to use the Eco-Ambassador elist to facilitate this if you're looking for someone to share an order with).
5.      Offering eco-friendly tableware like these (and putting them on the top of the list of options for disposable kitchen products):
| | |
| --- | --- |
| | Bare™ Sugarcane Dinnerware by Solo |
Made with annually renewable resources; compostable in a commercial compost facility
Total chlorine-free bleaching

Strong and soak-through resistant

Ivory

BPI Compostable Certified
 
 

Eco-Products™ Biodegradable and Compostable Cups
Made from corn-based plastic, these cups look and feel like regular plastic

Great for cold beverages, fruit and pudding

Not to be used with hot liquids

Biodegradable, compostable cups are made from annually renewable corn-based PLA
You may also notice that the font I am using for this email looks a little…different. It is called "Ecofont Ver Sans". Eco font reduces the amount of ink used for a font when you feel it necessary print an email, or any other document. By inserting small dots into the lines of font, less ink will be used which is cost effective and eco-friendly! You can download the font here.
If you do not have permission to download onto your work computer, please contact the help desk (ext.7-5898) for assistance.
Please let me know if you have any Eco-related questions!
Best regards,
Roxana
Eco-Friendly Newsletter (April)
Steph Lyons, Eco Ambassador, wrote a newsletter for the month of April. Check it out here .
Turn off the Lights
Emily Edwards, EA '12, designed a poster to encourage her labmates at SciTech to turn off the lights in the labs, since none of the labs can have motion-sensor switches for safety reasons.