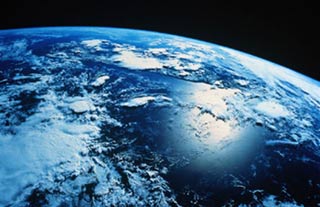 ---
General Climate Information
Climate Ark
http://www.climateark.org
A new search engine providing a host of links to sources of research, energy conservation, renewable technologies, and forest preservation. The site allows full text searches of leading research and activist web sites.
---
Government Sites
(see also Science Sites below)

United States
NOAA's Climate Literacy brochure 2009
The guide was organized by the National Oceanic and Atmospheric Administration, parent agency of the National Climatic Data Center, along with the departments of Agriculture, Commerce, Defense, Energy, Health and Human Services, Interior, State, Transportation and the Environmental Protection Agency, National Aeronautics and Space Administration, National Science Foundation, Smithsonian Institution, U.S. Agency for International Development and the American Association for the Advancement of Science.The booklet is available online at: http://www.noaa.gov/climateliteracy.html and http://www.climatescience.gov.
EPA Global Warming Site
http://www.epa.gov/globalwarming
Excellent primer on the science of climate change and the roles of various institutional players. Site details impacts of climate change in various areas of the United States.
EPA
http://www.epa.gov/globalwarming/climatelink
Designed for individuals and organizations interested in public outreach and education on climate change. Materials available through this service include brochures, fact sheets, slide shows, videos, and CD-ROMs.
---
International
United Nations Framework Convention on Climate Change
http://www.unfccc.de
The United Nations site on the climate change treaty negotiations.
http://www.unfccc.de/resource/beginner.html
Understanding Climate Change: A Beginner's Guide to the United Nations Framework Convention.
http://unfccc.int/essential_background/convention/items/2627.php
Extensive information about the United Nations Convention on Climate Change and the Kyoto protocol.
http://www.unfccc.de/resource/docs/convkp/kpeng.html
Has the full text of the Kyoto protocol
Intergovernmental Panel on Climate Change (IPCC)
http://www.ipcc.ch
Official site of the IPCC, a body of more than 2,000 scientists sponsored by and reporting to the United Nations.
---
Science Sites
Center for Health and the Global Environment, Harvard Medical School
http://www.med.harvard.edu/chge
Human Health and Climate Change. A project of the Center for Health and the Global Environment at Harvard Medical School, examining the public and ecological health impacts of El Niño events.
Goddard Institute for Space Studies
http://www.giss.nasa.gov
Features pages on climate modeling, climate impacts and forcing, and effects of warming on agriculture and other areas. Reports are presented in accessible, non-technical prose.
HEED MD Program
http://www.heedmd.org
The Health Ecological & Economic Dimensions of Major Disturbances Program. Site devoted to health, ecological, and economic impacts of global change, focusing on impacts of changes in the oceans on human and marine ecosystem health.
National Climatic Data Center (of the National Oceanic and Atmospheric Administration)
http://www.ncdc.noaa.gov
The NCDC is the government's largest repository of U.S. weather data, including information about extreme weather events. NCDC is the source of a number of landmark climate studies by Tom Karl, David Easterling, and others.
National Oceanic and Atmosphere Administration
http://www.noaa.gov
An excellent site for overview information on climate-related atmospheric and oceanic research and information.
U.S. Global Change Research Program
http://www.gcrio.org
The web page of the largest U.S. Government Agency on global environmental change (the U.S. Global Change Research Program). Very good resource for the basic science of climate change and a host of high-level scientific databases.
Carbon Dioxide Information Analysis Center
http://cdiac.esd.ornl.gov/home.html
The primary global-change data and information analysis center of the U.S. Department of Energy (DOE). It has a huge data collection on CO2 emissions (by country and per capita); CO2 concentrations; long-term climate trends; the effects of elevated CO2 on vegetation; and the vulnerability of coastal areas to rising sea levels.
Pacific Institute
http://www.pacinst.org/wildlife.html
Very extensive bibliography on climate change and its impacts on biodiversity. Compiled by the Pacific Institute for Studies in Development, Environment, and Security (Oakland, California).
RealClimate
http://www.realclimate.org/
RealClimate is a commentary site on climate science by working climate scientists for the interested public and journalists. RealClimate provides a quick response to developing stories and provide the context sometimes missing in mainstream commentary. The discussion here is restricted to scientific topics and will not get involved in any political or economic implications of the science.
World Meteorological Organization
http://www.wmo.ch
Good resource on global weather patterns, including El Niño and La Niña.
Woods Hole Oceanographic Institution
http://www.whoi.edu/
WHOI is dedicated to research and higher education at the frontiers of ocean science. Its primary mission is to develop and effectively communicate a fundamental understanding of the processes and characteristics governing how the oceans function and how they interact with Earth as a whole.
---
Non-Governmental Organizations
Centre for Science and Environment (New Delhi, India)
http://www.cseindia.org
Excellent site especially for developing country perspectives on climate issues.
US Climate Action Network
http://www.climatenetwork.org/uscan.htm
Current information on science, impacts and political developments both domestic and international. Action alerts and political updates for activists.
CNE (Climate Network of Europe)
http://www.climatenetwork.org
This network is the European counterpart to the U.S. Climate Action Network.
Climate Institute
http://www.climate.org
Site includes information on the science of global warming, impacts (by region), green energy, global warming events, publications, links, etc.
Climate Solutions
http://www.climatesolutions.org
Especially strong on science, regional impacts, and renewable energy economic opportunities. Climate Protection Solutions: A compilation of practical "how-to" steps to reduce emissions by individuals and families, as well as commercial, agricultural, industrial, and public institutions.
Environmental Defense Fund
http://www.edf.org
A rich website that includes a major entry titled "Understanding the Forecast," a virtual museum of global warming examples.
Germanwatch
http://www.germanwatch.org
Excellent sources on issues in promoting sustainable and climate-friendly development in developing nations.
The Heat Is On
http://www.heatisonline.org
Ross Gelbspan's companion website to his book "The Heat is On."
National Environmental Trust
http://www.environet.org
Excellent source for political developments, both internationally and in Congress, on global warming, information on science and impacts, and special reports on warming-related international equity issues and corporate efforts to block constructive initiatives.
Natural Resources Defense Fund
http://www.nrdc.org
Informational updates on the status of international climate negotiations.

Public Interest Research Group (PIRG)
http://www.pirg.org
Primarily addresses global warming through domestic energy and deregulation issues such as pushing for higher auto mileage standards and improved air quality.

Sierra Club Global Warming Campaign page
http://www.sierraclub.org/globalwarming/
Site is oriented toward citizen action in Congress to work on warming issues directly and also through legislative issues dealing with clean air, CAFÉ standards, and other domestic Initiatives.
Union of Concerned Scientists
http://www.ucsusa.org/global_warming
Excellent primer on the basic scientific facts, causes, and impacts of global warming, with particularly good summaries of key scientific findings on various aspects of climate change.
Worldwatch Institute
http://www.worldwatch.org
Home of very valuable, well researched reports on a range of subjects from renewable energy to climate change impacts on the insurance industry to the role of warming in desertification.
World Wildlife Fund
http://www.worldwildlife.org/climate
Good overview of climate issues, featuring special WWF Reports, most recent of which focuses on the destructive impacts of warming on the marine environment.

---
Renewable Energy and Energy Efficiency:
NGOs and governmental sites
Alliance to Save Energy
http://www.ase.org
A storehouse of suggestions on how to cut energy use and waste, the site also tracks political developments in energy issues at both the national and state levels.
American Council for an Energy Efficient Economy
http://www.aceee.org
This site specializes in consumer information on energy efficiency (e.g., guide to green cars and trucks, consumer guide to home energy savings).
Center for Renewable Energy and Sustainable Technology
http://www.crest.org
Site for Center for Renewable Energy and Sustainable Technology (CREST). Information on renewable energy, energy efficiency, and sustainable planning, featuring a database of more than 2,500 energy efficiency and renewable energy annotated web links.
COMMEND: Community for Energy, Environment and Development
http://www.energycommunity.org/
COMMEND is intended to foster a community among energy analysts working on sustainability analyses, through a range of complementary approaches including annual training workshops, a biannual newsletter, support for regional centers of expertise, online support forums and resources, and continued development of the Stockholm Environment Institute's LEAP system.
The Coupon Cupboard
Normally reserved for presenting the public with good deals, the Coupon Cupboard has a wonderful Energy Saving Tips page. It is very user-friendly and the explanations are well-done.

Del Mar: Fans and Lighting
http://www.delmarfans.com/educate/energy-efficient-heating-cooling/
How To: Energy Efficient Heating and Cooling
EPA's Green Lights and Energy Star Programs
http://www.energystar.gov
EPA's Green Lights and Energy Star Programs promote energy efficient technologies from refrigerators to energy-efficient buildings. Tufts is a member of the Green Lights program.
Energy Efficiency and Renewable Energy Network (EERE)
http://www.eere.energy.gov
Environmental Building News
http://www.buildinggreen.com
A plethora of information on materials, design considerations and real-world building issues.
MTC Renewable Energy Trust Green Buildings Initiative
http://www.masstech.org
The Massachusetts Green Buildings Initiative is a program of the Massachusetts Technology Collaborative's Renewable Energy Trust. The Initiative's primary goal is to provide funding for commercial, industrial, municipal, and multifamily building projects that incorporate renewable energy technologies, energy efficiency measures, and high-performance building design. This Initiative acts as a key component of RET's comprehensive approach to fostering a sustainable, competitive marketplace for renewable energy in Massachusetts. For more information on the Massachusetts Technology Collaborative, please visit
New Ecology, Inc.
www.newecology.org
A private non-profit working to promote sustainable development in urban areas, particularly the greater Boston metropolitan area. New Ecology works primarily with three constituencies: community development corporations, private sector developers, and universities, as well as various public policy networks and partners. Its current work and research agenda is heavily focused on green building for affordable housing applications, including a collaborative research project with The Tellus Institute and the Boson office of the Local Initiative Support Corporation. In addition, New Ecology provides referral services to local CDCs for green building professionals and services.
Northeast Sustainable Energy Association (NESEA)
http://www.nesea.org/
NESEA is the nation's leading regional education and advocacy association that aims to accelerate the deployment and use of renewable energy, green buildings, and energy efficiency. NESEA produces major events that inspire and motivate large numbers of people to get involved and make a difference.
Office of Energy and Sustainable Development (Berkeley, CA)
Great information about greening your home and making it as energy efficient as possible with links from the city of Berkeley and links outside local energy efficiency programs.


Rocky Mountain Institute
http://www.rmi.org
Excellent material on how to reduce energy use through a myriad of efficiency strategies. Features a section of FAQs which is quite extensive and very accessible.
The Solar Tribune
http://solartribune.com
The Solar Tribune is committed to providing insightful solar industry news and promoting public education. They understand that awareness and reliable information is key to expanding the solar industry, and their website offers a number of thoughtful educational resources, such as its Guide to Home Solar Panels.
US Business Council for Sustainable Energy
http://www.bcse.org/
Tracks developments in the renewable energy industry, especially as it relates to the ongoing international climate negotiations.
US Green Building Council (USGBC)
http://www.usgbc.org/Resources/links.asp
The US Green Building Council is the nation's foremost coalition of leaders from across the building industry working to promote buildings that are environmentally responsible, profitable and healthy places to live and work. Their links page provides a wealth of resources on green building.

---
Environmental/Climate News
Climate Ark has a very extensive news page with archives with over 15,000 articles
http://www.climateark.org/shared/news/
UN Framework Convention on Climate Change
http://maindb.unfccc.int/media/headlines/
This site has a good press page with climate change news stories from all over the world.
Environmental News Service
http://ens-news.com/
Grist Magazine
http://www.gristmagazine.com
An excellent daily update of environmental news stories. You can also subscribe for free to get a short daily e-mail about the most important environmental news. (Grist has a national focus but also includes quite a few international news items.)
---
Education:
U.S. Energy Information Association
http://www.eia.gov/kids/
The U.S. Department of Energy has put together a collection of information and activities for classrooms to use in teaching children about energy.
Global Warming for Kids
http://hawthornheating.com/info/heating-up-the-earth-global-warming-for-kids/
Hawthorne Heating, a Chicago-based heating and air conditioning company, has compiled a list of climate change-related sites focused on teaching children.
---
Canadian Links
Canadian Climate Action Network website (CANET)
http://www.climateactionnetwork.ca
Pembina Institute
http://www.pembina.org
David Suzuki Foundation site
http://www.davidsuzuki.org