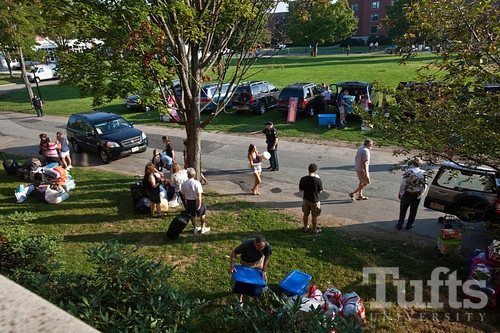 Welcome to Tufts! Whether this is your first year here or your last, follow these tips for moving-in green. Put your greenest foot forward and follow it whether you are bringing stuff from home, or plan on acquiring appliances at school.
Start this year off right with our sustainable living tips and bring them with you wherever you go.
What to bring
Begin by reusing. Save time and money by bringing products from home rather that buying new products when possible.
Bring reusable containers, utensils, water bottles, mugs, etc. to reduce waste and save money
Green your computer before arriving on campus by using power saving settings.
Look for the Energy Star® label when buying appliances.  They are readily available and energy efficient
Power strips make turning off multiple appliances fast and easy. Cell phone chargers and many other devices draw energy even when turned off. Plug in all your electronic devices to a power strip, and when they are not in use flip the switch.
Save trees and reduce pollution by purchasing recycled content paper and notebooks.
Drying racks provide a less expensive way of drying laundry that saves energy.
Separate recycling and trash bins make sorting waste easy.
If you have a bike, bring it to campus! Bikes are a fun, carbon-free way to get to class and to explore Somerville and Boston.
Moving in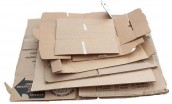 Recycle or reuse cardboard and plastic packaging from moving into your dorm room.  Cardboard recycling is mandatory in Massachusetts, and available in designated locations in all dorms.   Cardboard boxes also make great under-bed storage.
Exchange inefficient incandescent light bulbs for efficient CFLs.  Light bulbs can be exchanged at the Tufts  Office of Sustainability during orientation, or through your Eco Rep-in-Residence, FOR FREE!
Check out this site from University of New Hampshire to see what an energy-efficient dorm room looks like.
Talk with your Eco Rep about getting your dorm room green certified.
Once you are on campus, get Green Dorm Certification
This list illustrates what ANYONE can do as a freshman in his or her dorm. (See green dorm room certification checklist below. To qualify, you must fulfill at least 10 of the requirements – one of them MUST be one of the starred (*) criteria).
Turning off lights when not in room*
Using a power strip to turn off electronics when they are not in use*
Turning heat down when not in room*
Keep windows closed when heat is on*
Use compost bin
Own plastic CharlieCard and/or a bicycle
Have plant(s) in your room
Recycle scrap paper/reusing one-sided paper
Own reusable water bottle(s) and/or a Brita/water filter
Own reusable utensils/cutlery (no plastic utensils/cutlery like plates, forks, knives, etc)
No aerosol cans
Use Eco-friendly cleaning supplies (toiletries, detergent, etc)
Own 10 pieces of second-hand items not including books (clothes, comforters, refrigerator, appliances, etc)
Use reusable shopping bags (purses/man-purses do not count)
Reusing plastic shopping bags as trash can liners
"Choose to Reuse" sticker
Drying rack
Used/rented books
Use compact fluorescent light bulbs (CFLS)
 EnergyStar certified appliance(s) (ie refrigerator, printer)
Person(s) who hugs trees