Typical recycling station
Recycling at Tufts is coordinated by Tufts Recycles! Their website is always a great resource, but you can also use the following general guide to recycling at Tufts.
What goes in the BLUE bins?
Mixed Paper
Magazines
Newspaper
Envelopes (plastic windows are OK)
Paperback books
Cereal boxes
Notebooks
Folders
White paper
Colored and glossy paper
Beverage cartons
Clean paper hot cups
All paper is recyclable. Don't worry about staples, paper clips, spirals, etc.
What goes in GREEN Bins?
Glass, metal, plastic
All rigid plastics
Cans (tin, steel, and aluminum)
Glass bottles
Clean aluminum foil and trays
Empty aerosol cans
Aseptic "drink boxes"
Juice and milk cartons
Empty photocopier toner bottles
Plastic utensils
What goes in the TRASH?
Items that cannot be recycled
Wax-coated items or items with food on them, such as:
Pizza boxes (clean lids can be recycled)
Paper cups for cold drinks and plates
Carbon paper
Plastic bags (though many grocery stores will take them back!)
Film
Styrofoam
"Soft paper" like tissues or napkins (though this can often be composted – see the sidebar at right for more information)
What about Electronic Waste (E-Waste)?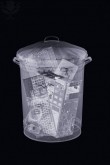 Ever wondered what to do with outdated technology? First things first: it's hazardous and doesn't belong in the trash! Computers, monitors, printers, TVs, VCRs, and DVD players should be recycled because they contain mercury, cadmium, chromium and other hazardous metals and materials. Due to lower environmental standards and working conditions in developing nations like China, India, and Kenya, America's electronic waste is often sent to these countries to be processed, in most cases illegally and without the proper safety precautions. As part of our committment to social and environmental responsibility, Tufts does not send trash overseas. At the end of the year, residential students can leave old technology, batteries and other electronics in their dorm's R2ePack box for recycling.
Outdated computers
Try to donate or recycle your old computers before they become totally obsolete. If you wait too long to dispose of your computer, it will no longer be possible for it to be reused. Students and users of home computers should contact the computer manufacturer about their recycling program (Dell, Apple, IBM, and others will recycle your computer for $30 or less including shipping).
Learn more from the EPA's e-cycling website. For computer recycling in the area, see here.
The Tufts Computer Donation Program collects, cleans up and donates Tufts-owned computers that are less than five years old to the Grafton, Boston, and Medford/Somerville communities. Older Tufts-owned computers are recycled via Tufts' long-standing recycling program. For details, visit here.
Computers and laptops from all three campuses are eligible, but they must be no more than 4 years old and owned by Tufts University.
To donate your eligible machine:
Contact your local TTS support organization. They will transfer all data from your old Tufts computer to your new machine.

Complete Facilities' online service request form for a pickup of your old computer.

Log in

with your Tufts username and Tufts password and fill out the form as specified. Note in the description field that this is a pickup for "Tufts Computer Donation Program."

Facilities will deliver your computer to TTS, where all data will be removed. The computer will be stored until a suitable local recipient is identified.
Since its inception in the spring of 2012, 100 machines have been donated to more than 60 local schools and non-profits.
The EPA estimates that 75% of computers sit in storage for several years before finally getting thrown away.
Cell phones, batteries, and ink cartridges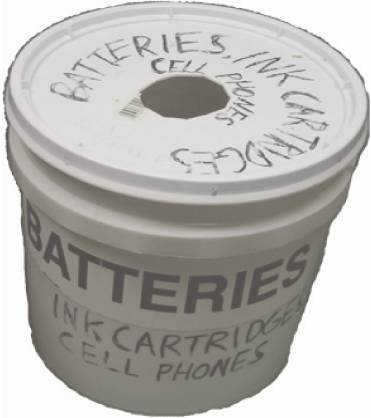 Recycle cell phones on campus. Cell phones and ink-jet cartridges can be added to the battery collection containers for recycling. Tufts Recycles! donates collected phones to MassRecycle.
Almost all batteries (including computer batteries) can be recycled at Tufts, with the exception of liquid and gel acid batteries (e.g. car batteries). Please put a piece of tape over the ends of each battery to prevent a fire hazard.