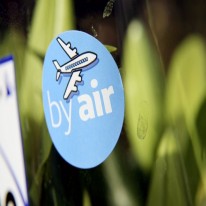 Carbon dioxide (CO2) is one of many greenhouse gases that influence the planet's climate. Air travel's contribution to global CO2 emissions are increasing rapidly. Experts predict that by 2050, annual aircraft emissions will reach well over a billion tons of greenhouse gas. Already, 13% of total global transportation-related carbon dioxide emissions are released by airplanes.
We all need to minimize our air travel. Some flying might be unavoidable, for example for academics who need to attend professional conferences and students who wish to visit their relatives, but we have a few options to minimize its impact:
If you must fly…
Use the most direct route possible because take-off and landing require the most fuel during a flight.
Fly economy instead of business class: Less leg-room means room for more people and fewer emissions per person.
Buy carbon offsets: When you buy carbon offsets, you abstain from reducing your own emissions and pay someone to reduce their emissions in your stead.
About Carbon Offsets
Who buys them? Consumers who are concerned about their environmental impact but who cannot avoid flying completely. These individuals may wish to neutralize their travel emissions by purchasing carbon offsets.
How do you get them? Individuals calculate the amount of carbon emissions they are responsible for and purchase an offset for that amount. The funds the offset company receives are then used to implement and manage projects that avoid, reduce, or absorb greenhouse gases through renewable energy, energy efficiency, or forest and other bio-sequestration projects.
Where do I learn more? Check out the Carbon Offset Research and Education website.