Purchase less toxic products.  Just because a product says it's natural doesn't mean it's nontoxic!  Look for Green Attributes like: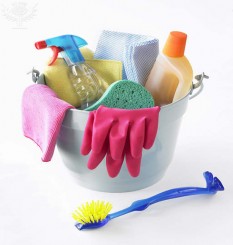 Non-toxic (e.g. no ammonia)
Not tested on animals
Biodegradable
Not solvent-based
Ingredients from renewable resources   (e.g. vegetable versus petroleum)
These products are not as harmful to the environment when they leach into water and soil.
Buy laundry detergent that is phosphate free. Detergents are  released with sewage water. When phosphates are present, they enter the environment and poison aquatic life.
For cleaner clothes, try vinegar and baking soda.
For some Green Cleaning tips:
Some Green brands to look for:
Seventh Generation
Ecover
Sun and Earth
Method

Imus Greening the Cleaning
GreenWorks
SimpleGreen