* Laundry Facts *
Front-loading washing machines use:
40 to 60% less water
30 to 50% less energy
50 to 70% less detergent
than top-loaders!
Most of the energy used for washing clothes is consumed for heating the water. A typical top-loading washer uses about 40 gallons of water as compared to only 20 to 25 gallons in a front-loader.
The gentle tumbling action of a front-loader is much easier on clothes than the twisting action they receive in a top-loader.
The typical top-loader machine spins at about 600 rpm (revolutions per minute). Many front-loading machines spin faster -1000 rpm to1600 rpm. This forces more water out of the washing.
Therefore, front loaders reduce drying time considerably because they spin much faster.
In Europe, more than 90% of washing machines are front-loaders, compared with less than 5% in the U.S.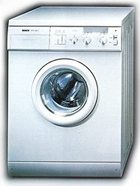 During the summer of 2004, Tufts took another significant step to reduce its ecological footprint by installing over 100 front-loading washing machines.
Tufts University dormitories have coin-operated washers and dryers that are leased from Mac-Gray.
The Tufts Climate Initiative and Tufts Dining Services (who oversees the washing machine contract) worked for several years with Mac-Gray on a plan to switch the Medford campus to front-loaders.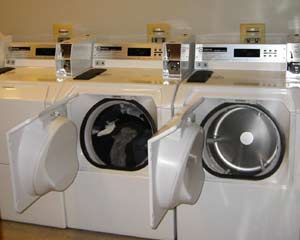 The Medford campus has 125 washing machines that are used mostly by students in their residence halls. On average, each washer is used about 700 times a year.
Initially 55 top-loaders were replaced with Maytag Neptune washers, resulting in savings of almost 700,000 gallons of water every year.
During the summer of 2004, Mac-Gray placed another 46 washers, bringing the total to 101 front loaders. (In 24 of the small wood frame houses, the washers were not replaced due to space and other logistical constraints.)
Students pay $1.25 for each wash cycle. The university contemplated to switch to a flat fee for washing machine access but chose not to do so, primarily to avoid wasteful behavior.
Each front loader will save the university about 17,000 gallons of water per year. In total, the switch to front-loaders will save about $23,000 in water, sewer and energy costs and cut carbon emissions by over 30 tons a year. See how we're doing!