Each year the Tufts Facilities Department selects some buildings for maintenance-related capital improvements. As part of this program, the Facilities Department reviews the integrity of each building and determines whether to make improvements in areas such as fire and life safety, lighting, structure, appliances, and heating systems. A graduate student group from the Department of Urban and Environmental Policy (UEP) acted on a suggestion made by the Facilities Department to use the maintenance activity as an opportunity to introduce energy- and environment-related improvements.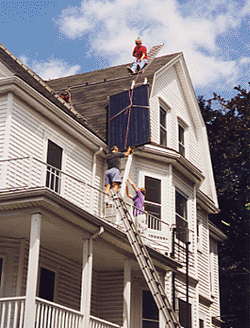 Working with Betsy Isenstein, Tufts Energy Manager, and Tufts Climate Initiative (TCI), the UEP students chose the Schmalz House as the focus of their study based on the availability of energy use data for the building, its inclusion in the summer maintenance plans, its potential for improvement, and its lack of occupancy during the spring 1999 semester. The university's French house, Schmalz House is a three story residential wood-framed building that houses 12 students. Prior to the maintenance work, Schmalz House had no insulation, inefficient lighting, two oil-fired boilers, and two inefficient gas fired hot water tanks.
The students consulted with a conservation company and a renewable energy company to determine the most appropriate and cost-effective energy improvements. The study performed by the students suggested that Tufts insulate the walls and roof, install a high efficiency gas-fired boiler, improve heating controls, replace the top-loading washing machine with a front-loading unit, replace the existing refrigerator with an Energy Star labeled model, and explore the feasibility of a solar hot water system.
TCI adopted the students' study as the foundation for a demonstration project and worked with Tufts Facilities who implemented a number of the suggestions put forth in the students' report, as well as some additional items. TCI provided technical assistance and funded a portion of the climate change reduction-related improvements at Schmalz House. TCI will monitor the energy and cost savings associated with the Schmalz House improvements over time and plans to share its experience with other universities. Schmaltz House is just one of 30 wood-framed houses owned by Tufts; all of which posses a great deal of opportunity for energy-related improvements.

Project Implementation Phases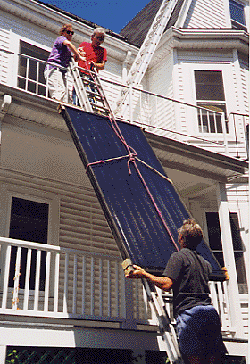 Phase I: Summer 1999
Solar hot water system with Btu meter
Auto-dimming ballasts and other advanced lighting controls
Front loading washing machine
Phase II: Summer 2000
Replace dual oil-fired boiler system with high efficiency gas fired boiler
Convert to all hot water heat distribution with baseboards
GFX heat exchanger with Btu meter
Connect existing hot water tanks and solar tank as a zone off of the boiler
Solar panel installation.
Project Evaluation
In 2005, a graduate student at UEP conducted a follow up study to evaluate how well the building is performing. The following information is taken from his report.
Energy and Fuel Use before and after the Renovation
In the US, electricity usage is continuing to grow. This uptrend can also be observed at Tufts. At Tufts this uptrend is considered to be caused new buildings and by the increased number of personal computers and other electronic devices such as TVs, DVD-Players, etc. in dorms and offices.
At Schmalz House, it was possible to reduce energy consumption through energy efficiency improvements. But if the uptrend continues at its current rate, these efforts will be offset compared to the 1997 baseline within the next five years.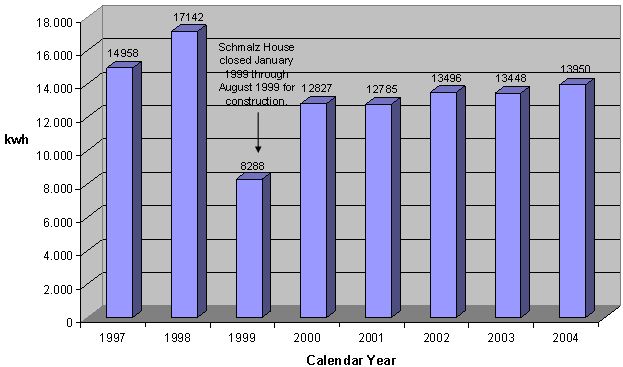 Graph 1: Schmalz House Electricity Usage
The biggest single reduction in energy consumption was made through the replacement of the oil fired boilers by gas fired units which are by far cleaner and more efficient. Before the renovation oil was used for heating whereas gas was exclusively used for hot water. The switch to gas cut the BTUs per year to half. Nevertheless, there is again an uptrend which can partly be explained with the very cold winters of 2003 and 2004.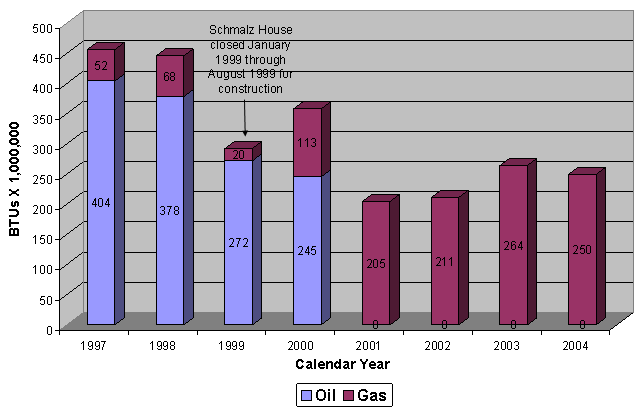 Graph 2: Schmalz House Fuel Usage
Reduction of GHG-emissions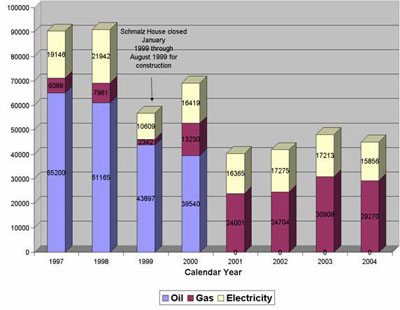 Graph 3: Schmalz House CO2 Emissions (Y-Axis: pounds of CO2)
Conversion factors:
Fuel #2: 22.384 lbs. CO2 per gallon; 161.386 lbs. CO2 per 1.000.000 BTU
Natural Gas. 120.593 lbs. CO2 per 1000 ft3; 117.080 lbs. CO2 per 1.000.000 BTU
Electricty: 1.28 lbs. CO2 per kWh
Cost Savings and Payback Period
Anaysing costs and paypack is difficult. There were several obstacles:
– The Schmalz House renovation was done over three years.
– Some of the work involved energy conservation, but much of the work (sprinklers, fire and security system, carpeting, kitchen renovation, etc.) did not. A "normal" renovation would have included many of these things.
– Most of the other work was completed by a general contractor. It is not possible to recall if the pricing was itemized after the original bid. An even if, It is not possible (or at least very difficult) to go back in time and determine pricing of less efficiency items at that point in time. For example, to know what a lesser efficiency boiler might have cost.
Nevertheless, at least the data for potential costs savings due to energy and fuel savings were available and are presented in the following graph.
The higher costs in Graph 4 are the result of increased fuel costs after the renovation (in the years 1997-1999 the average price for a gallon fuel #2 was $0.5726 and the average price for 100 feet3 natural gas $1.006, while in March, 2005 the price for 100 feet3 natural gas was $1.41 and for a gallon fuel #2 $1.1949).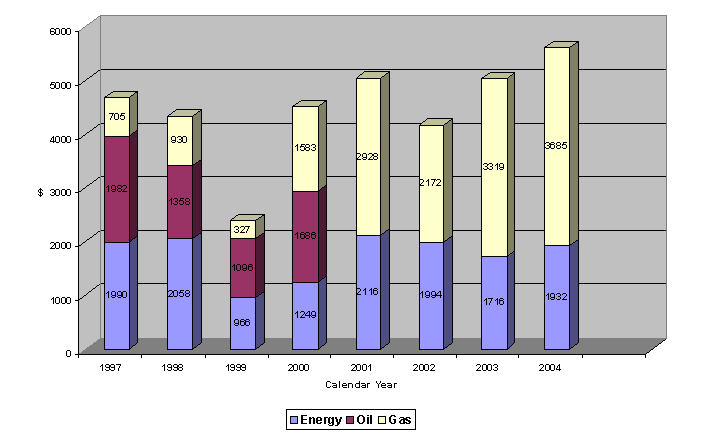 Graph 4: Energy and Fuel Costs
However, the relative costs for fuel have been decreased due to the renovation. To proof this, the hypothetical energy costs without renovation were calculated by taking the 1997 fuel consumption figures and using March, 2005 fuel prices.
This comparison shows that the renovations led to a net financial benefit created by the energy and fuel efficiency improvements in Schmalz House.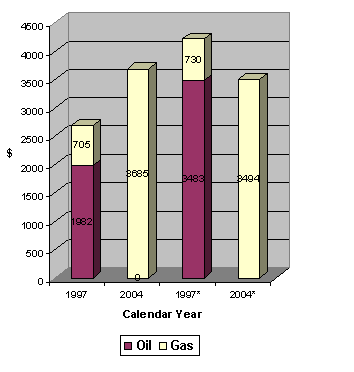 Graph 5: Cost Comparison before and after the Renovation. This graph compares the actual fuel costs for the years 1997 and 2004 and assumes March, 2005 fuel prices for the year 1997 shown in the 1997* and 2004 shown in the 2004* bar.