Beginning this fall (2011), no more bottled water will be available for sale at Hodgdon-To-Go. Instead, students can get a 24oz Nalgene water bottle for the price of a fountain drink in the first two weeks of school. They can refill these bottles with water for FREE at Hodgdon or at any water fountain or Brita hydration stations around campus. They can then use these reusable water bottles to purchase any fountain drink at a discount not just at Hodgdon, but also at Tower Café, Mugar Café and The Commons.
Bottled water is harmful to the environment.
Why is this happening?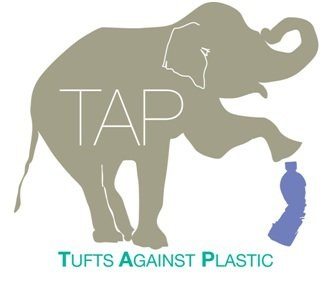 In Fall 2010, the Environmental Action ex-college class , which later became Tufts Against Plastic (TAP), decided to work to reduce the use of non-reusable water bottles on campus.
Bottled water is detrimental to the environment in a variety of ways: unfairly sourcing water from communities, transportation across the country, energy intensive bottling, and the huge production of waste from the disposable bottles. By removing this wasteful product, Tufts is taking a stand to help sustain our environment and educate its students on the importance of leading sustainable lives. Instead of disposable bottles, students will have easy access to new reusable water bottles. They can fill up these bottles every day with clean, free, water as an alternative. The students, by getting their meals at Hodgdon, can save money, be environmentally friendly, and stay hydrated, without bottles.
A preliminary online survey conducted by TAP garnered over 400 responses and found that:
86% of students already owned reusable bottles. Yet, many still continued to buy bottled water because of convenience.

Majority of students got bottled water from Hodgdon.

If there were no bottled water sold in Hodgdon, a majority would be willing to use reusable bottles.
In response to TAP's findings, Tufts Dining, TAP and the Office of Sustainability collaborated over the summer to eliminate the sale of bottled water from Hodgdon.
Download the poster TAP exhibited at the Sustainability Research Day last Spring for more details about TAP's survey findings.
Why did TAP target bottled Water?
Every year over $100 Billion dollars is spent on bottled water worldwide. The United Nations estimates that if given just 1/6th of that money for one year, $15 billion, they could cut in half the number of people without access to clean water. (thewaterproject.org/bottled_water.asp)
The Facts
Bottled water is a rip off!!

While bottled water can cost between $0.89 and $8.26 per gallon, tap water typically only costs about $0.002 per gallon

What you drink from the bottle has almost no major difference to what comes free out of the tap. Who would choose to pay for what you could get for free??
Annual production of the plastic (PET or polyethylene) bottles required to meet U.S. consumer demand for bottled water uses the equivalent of about 17.6 million barrels of oil, not including the cost of transporting the product to consumers.

about 86% of empty plastic water bottles in the United States land in the garbage instead of being recycled. American taxpayers money goes into cleaning up these bottles.

Some 4 billion PET bottles end up in the U.S. waste stream each year, costing cities some $70 million in cleanup and landfill costs.

A plastic water bottle can take up to 1000 years to degrade in a landfill;

each year the energy to make the bottled water used in the U.S. takes enough oil to fuel one million cars. (http://storyofstuff.org/bottledwater/)

From start to finish, bottled water consumes between 1100 and 2000 times more energy on average than does tap water. (http://rs.resalliance.org/2009/02/27/drinking-bottled-water-is-drinking-oil/)
Bottled water is no healthier than tap water.

Despite what many consumers are led to believe, bottled water is no safer or purer than tap water. In fact, some bottled water is simply municipal water that has been wastefully packaged, falsely labeled as pristine spring water, and sold at an exorbitant price. According to the National Resources Defense Council, as much as 40 percent of bottled water is actually from a tap.

The water bottle industry is not monitored by an outside regulating body, so the "purity" of the water is on the word of the corporation alone. Municipal water is heavily tested and monitored to maintain that it is safe for the city it is being supplied to. National Resources Defense Council which tested 1,000 bottles from 103 brands and found bacteria, carcinogens, and other chemicals in a significant number of the products. Some of these contaminants can be traced to the water source, others are byproducts of the purification process, and still others leach from the plastic bottle.
We want to discourage the corporatization of water.

Water is a human right, not to be bought and sold.

The marketing of bottled water undermines peoples perception of clean, public, drinking water. Because they were told by Poland Springs that the water they can drink in the bottle is "fresh" and "clean," they water from the tap seems falsely inferior by comparison.

worldwide there is a need for investments in public water systems to ensure equal access to water

"Bottled water has become an incredibly big business, up to $100 billion per year," said Todd Jarvis, an assistant professor in the Water Resources Graduate Program at Oregon State University, and a research hydrogeologist with the OSU Institute for Water and Watersheds. "There are enormous amounts of money to be made here. Some of the profits make our business majors blush, and everyone wants in. It's just astonishing." (http://dangerousintersection.org/2007/07/01/bottled-water-harmful-to-the-environment/)

1 billion people worldwide don't have access to clean drinking water.

A child dies every 15 seconds from lack of clean water.