Used ink and toner cartridges should always be recycled.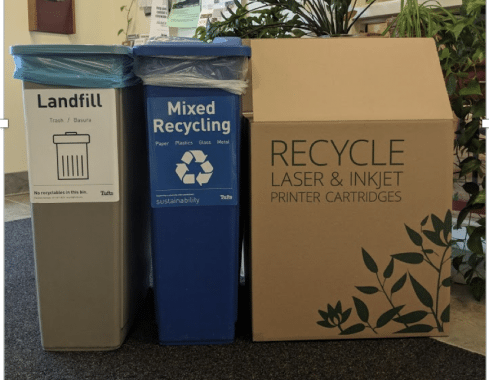 Recycling Options:
1. Tufts preferred vendor W.B. Mason will take back any ink or toner cartridge, regardless of where it was purchased. You can give them to any WB Mason driver.
2. Cartridges can usually be mailed back to the manufacturer using postage paid labels included with new cartridges. UPS drop boxes are available on all Tufts campuses.
3. If you are on the Medford/Somerville campus, cartridges can be brought to central recycling locations on the first floor of the Mayer Campus Center and the fourth floor of 574 Boston Avenue.
In the upcoming weeks, additional ink and toner cartridge recycling locations will be added to all Tufts campuses. Let us know if you would like an official collection box for your building (see photo). Please email recycle@tufts.edu with any questions or suggestions.